Rick Santorum's Nephew is Just More of a Ron Paul Fan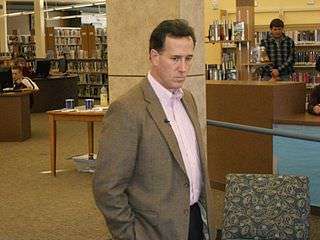 Oh Rick, how things have changed. Where there was once no hope for a Santorum surge, Real Clear Politics now averages the former senator's poll numbers at 16.3 percent in Iowa (though they are of course much, much smaller nation-wise, so it's hard to feel too scared).
What's frustrating from a libertarian point of view is that evangelical Christians are the reason for Santorum's jump in poll numbers. He has particular appeal to anti-abortion activists and homeschoolers. If you noticed that Paul is also a Republican who is anti-abortion, pro-homeschooling, and Christian, congratulations. If he could just promise to bomb Iran, like some former Pennsylvania senators he might get the votes or endorsements of the truly socially conservative as well.
Because Santorum is just not for a small government; he has said so himself. And we must assume his supporters enjoy some of the glossy, empty rhetoric of down-home American conservatism, but that's about it.
Writes David Boaz at the Cato @ Liberty blog:
[Santorum] declared himself against individualism, against libertarianism, against "this whole idea of personal autonomy, . . . this idea that people should be left alone." And in this 2005 TV interview, you can hear these classic hits: "This is the mantra of the left: I have a right to do what I want to do" and "We have a whole culture that is focused on immediate gratification and the pursuit of happiness . . . and it is harming America."
This lack of respect for the individual is apparently what turned off the sweater vest aficionado's 19-year-old nephew John Garver, who is a student at the University of Pittsburgh in Johnstown.
At the Daily Caller under the headline "The Trouble with my Uncle Rick Santorum", Garver writes that he's more of a Ron Paul fan than a fan of his Uncle Rick.
If you want another big-government politician who supports the status quo to run our country, you should vote for my uncle, Rick Santorum. America is based on a strong belief in individual liberty. My uncle's interventionist policies, both domestic and foreign, stem from his irrational fear of freedom not working.
It is not the government's job to dictate to individuals how they must live. The Constitution was designed to protect individual liberty. My Uncle Rick cannot fathom a society in which people cooperate and work with each other freely. When Republicans were spending so much money under President Bush, my uncle was right there along with them as a senator. The reason we have so much debt is not only because of Democrats, but also because of big-spending Republicans like my Uncle Rick.
It is because of this inability of status quo politicians to recognize the importance of our individual liberties that I have been drawn to Ron Paul. Unlike my uncle, he does not believe that the American people are incapable of forming decisions. He believes that an individual is more powerful than any group (a notion our founding fathers also believed in).
Another important reason I support Ron Paul is his position on foreign policy. He is the only candidate willing to bring our troops home, not only from the Middle East, but from around the world.
A hundred blogger jokes about awkward Santorum family Thanksgivings were born from that earnest editorial. You have to wonder where Garver got his sense. And you don't have to be head-over-heels about Paul to notice that Garver has got his uncle's number good. Ron Paul is, in many ways, just as square as Santorum (though older, so he has further excuse) but he's pretty keen on personal choice and, most daringly, not running off to war every five minutes. Maybe the kids today like that.
But don't worry, Santorum still has the support of humongous homeschooling brood and reality TV sensations the Duggars. He's the family's bronze medal since former Arkansas Gov. Mike Huckabee could not be enticed into the race and according to Duggar patriarch Jim Bob, "You're not going to find a perfect candidate unless it's Jesus Christ."
Rupert Murdoch, from his brand new account, has been excitedly tweeting his support for Santorum these last few days as well.
Reason on Santorum, if you must know more.