Americans Reluctant to Extend Unemployment Benefits to 99 Weeks, Open to 52 Weeks
At the end of December, Congress will determine whether to continue extending unemployment benefits beyond 26 weeks (about 6 months) to 99 weeks (about 23 months).
As of November 2011, national unemployment stood at 8.6 percent; nearly half have been unemployed for 27 weeks or more. (See BLS estimates for unemployment). States typically provide up to 26 weeks' worth of unemployment benefits, and the federal government has provided the extension up to 99 weeks. (For more discussion click here.)
The December 2011 Reason-Rupe poll asked 1,200 Americans on both landline and mobile phones how long they thought unemployment benefits should be. About a third of Americans prefer the states' six month limit, and about another third believe it should extend seven months to 18 months. A little less than a quarter believe benefits should extend 99 weeks or more. In the sum, the majority (60 percent) reaches consensus at about one year or less. This means that Congress would probably get the most support for extending unemployment benefits to 52 weeks, rather than 99 weeks.
To better understand what Americans think about unemployment, the poll asked whether they thought those unemployed over a year were trying hard to find jobs but couldn't, or if they could find jobs if they wanted to. Americans are divided, with 48 percent believing those unemployed over a year are trying hard to find jobs and 44 percent believing the unemployed could find jobs if they wanted to.
When somebody loses their job, for how many months should they receive unemployment benefits? (OPEN-ENDED)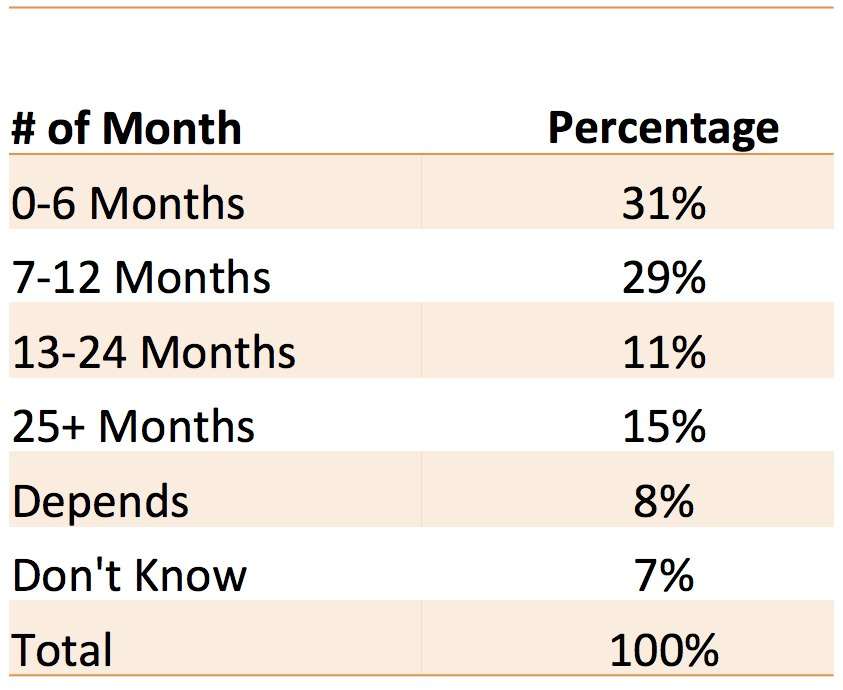 Find full Reason-Rupe Q4 2011 poll results, question wording, and methodology here.
The Reason-Rupe Q4 2011 poll collected a nationally representative sample of 1,200 respondents, aged 18 and older from all 50 states and the District of Columbia using live telephone interviews from December 1-13. Interviews were conducted on both landline and mobile phones. The margin of sampling error for this poll is +/- 3 percent.
Follow Emily Ekins on Twitter @emilyekins