Medvedev: If We Can Put a Man in a Gulag, Why Can't We Send Him to Mars?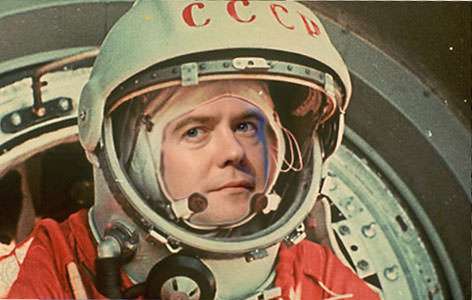 Acting Russian President Dmitry Medvedev surveys the failure of the Phobos Grunt mission earlier this month and the loss of a Soyuz cargo craft in August, and he reaches the obvious conclusion: This kind of thing wouldn't happen if Stalin were around.
"The recent failures are a big blow to our competitiveness. This does not mean that anything fatal happened. It just means that we have to find those responsible and punish them," Medvedev said in nationally televised remarks.

"I am not suggesting that we line people up against the wall like we did when Joseph Vissarionovich was in power," he added in reference to the firing squads that Stalin used to execute his political foes in 1930s purges.

"Nevertheless, we have to punish them seriously."
Medvedev clearly has not watched Office Space, with its insight that fear will only motivate you to work just hard enough not to get fired. More importantly, he's ignoring the actual history of Russia's space program.
In Matthew Brzezinski's history of the Sputnik program Red Moon Rising, the elusive "Chief Designer" Sergei Korolev (who wasn't actually elusive but had his name and identity suppressed by the government) is shown to have run a very effective stovepipe operation within the dysfunctional Soviet state, and his management method did not involve punishing people seriously, or punishing them at all. Instead, Korolev kept a safe full of cash in his office, from which he dispensed bonuses to engineers who solved the problems he needed solved.
Georgia's Man of Iron had ascended to glory by this point, but even while Stalin was alive, punishment does not appear to have been an effective method for advancing science in Russia. Korolev was denounced and sent to the gulag before the war, as were many talented Russian scientists and military officers. During his imprisonment, the brilliant engineer lost all his teeth. As World War II buffs know, it was only when the Soviet Union was on the verge of defeat that Stalin relented, released people of proven capability from his prisons and allowed them to start replacing the flunkies he had installed.
The idea that you can motivate people by threatening them is the regulator's fallacy.
In an upcoming special issue, Reason's print edition will look at the progress of the private space industry (which so far has found a better friend in Roscosmos than in NASA). Here's Reason.tv talking with space entrepreneur Peter Diamandis: