JoePa's Legacy: Buggery and Looting. Moral: Retire At 70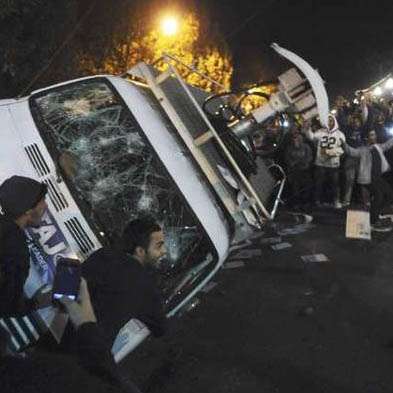 As Pennsylvania Sports Tragedies This Week Featuring Guys Named Joe go, I've been more broken up by the death of Joe Frazier – a great boxer, entrepreneur, proud father and patriot who beat Muhammad Ali fair and square in a unanimous decision, fought Ali nearly to death in a rematch, and never got the respect he deserved – than I am by the downfall of eons-long Penn State Nittany Lions football coach Joe Paterno in the wall-of-silence scandal surrounding alleged sex offender Jerry Sandusky.
Criminal accusations generally, sex accusations broadly and child-related accusations specifically are prone to witchmob kangaroo hunts, and Sandusky has not been convicted of any crime. But the failure to report seemingly credible reports of rape is an institutional problem, and Paterno needs to be held responsible for the institution's behavior.
The many observers and supporters who have been clogging up the airwaves with testimonials to Paterno's decency and integrity, not to mention the Penn State students who rioted on his behalf, underscore how much authority and admiration JoePa has amassed since becoming Penn State's head coach in 1966. (Prior to that he worked for the program as an assistant coach, beginning in 1955.)
In fact, Paterno's shameful end testifies to a problem that is more prevalent than either child sex abuse or connivance at evidence of sex crimes. If the 84-year-old coach had retired just a few years ago – after duly passing along a report about Sandusky to the proper channels – he would still have the sterling reputation his supporters are strenuously working to clean up.
Football may be especially prone to the overstaying phenomenon. Consider that our nation might have been spared the sight of Brett Favre's penis had the greatest quarterback in NFL history taken his curtain call gracefully. But outworn welcomes are by no means limited to football, or even sports. In my experience most workplaces – closed shops and open, public and private sector – suffer from alter kockers who don't know when to move on.
Though I do not share the urge to elevate Joe Paterno as a semi-divine person, I do give him respect as a coach. In the interest of trying to show people at their best, here's Penn State's surprise victory over the Vinny Testaverde-led Miami Hurricanes at the 1987 Fiesta Bowl. Blow your mind by recalling that even back in the Reagan era, Paterno was already considered an iconic éminence grise who surprised both young and middle-aged alike by outfoxing the up-and-comer Jimmy Johnson: