Michigan: Perfect Venue for GOP Candidates to Discuss Obama's Past and Future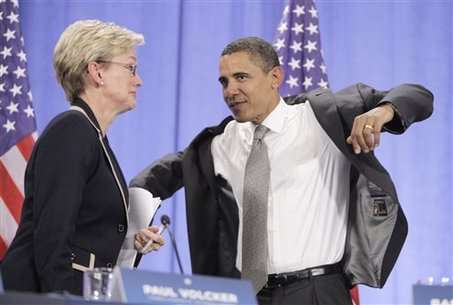 Editorial cartoonist and Michigan View editor Henry Payne points out today that the Wolverine State is a perfect venue for a GOP presidential debate because from 2003 to 2007 it was a veritable laboratory for President Obama's economic ideas (if you can call them that). During that time, it was governed by Democrat Jennifer Granholm, Obama's intellectual twin.
The similarities between the two are downright eerie: They are both lookers; they are both Harvard trained lawyers; they both promised to transform their moribund economies into meccas of green jobs; they both failed—miserably.
Payne notes:
Before the federally-subsidized Solyndra scandal, there was the scandalous, Michigan-subsidized RASCO fiasco.

Before Obama's $800 billion stimulus there was Granholm's 2006 $2 billion stimulus (It will "create tens of thousands of new jobs. We'll invest. . . public and private funds to develop new sectors of our economy. In five years you'll be blown away," she said).

Before there was a debt ceiling showdown threatening a government shutdown, there was Granholm's 2007 budget showdown that shut down government.

Before Obama's proposed tax hike in the middle of a recession, there was Granholm's 14 percent recession tax hike—all the revenue from which was immediately spent, leading to an even larger $2 billion deficit.

Before Obama's stubborn 9 percent unemployment, there was Granholm's stubborn 11.4 percent unemployment.

Before Standard & Poor's Obama downgrade, ratings services during Granholm's reign downgraded the Wolverine State from "AA? with a stable outlook" to "AA? with a negative outlook."
The RASCO scandal, incidentally, refers to the Granholm administration's decision to shower $9 million in tax credits on a company whose website showed that it had no employees when it filed its application—or four quarters prior to that. Why did it get the credits? Presumably, because it's name, Renewable and Sustainable Companies LLC, included the words "renewable" and "sustainable." Oh, and it promised to create 1,813 jobs in Michigan by the year 2016 and pump $22.7 million into state coffers, almost giving the Granholm administration an orgasm, no doubt.
The only problem was that when RASCO's application was granted, its CEO Richard Short, a convicted embezzler, was out on parole trying to, yet again, scam thousands of dollars from an 86-year-old Flint woman with dementia. Two days after Short shared a stage with Gov. Jennifer Granholm, he was arrested for parole violations.
None of this stopped Granholm from snagging a nice faculty position at University of California, Berkeley, and become a talking head on David Gregory's Meet the Press.
Perhaps she can give Obama a recommendation after he exits the White House, hopefully next year.