Solyndra Investor's Strategy: "Down cycles become up cycles."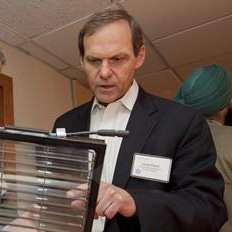 If you're still withdrawing from Breaking Bad's recent season closer, don't worry: Solyndra has enough material for anybody craving a convoluted tale full of characters so repulsive you don't dare look away.
Reuters' Nichola Groom, Sarah McBride, Cezary Podkul and Roberta Rampton profile David Prend, the RockPort investor we last met leaning on the U.S. Navy to buy Solyndra solar panels and fatefully persuading President Obama to make the Fremont, California company the centerpiece of his green subsidies publicity. Prend, a dedicated green investor, declined to be interviewed, so a few professional associates come in to blow smoke up his ass:
"He's a very cerebral kind of guy," said Mark Heesen, president of the National Venture Capital Association. "But you'd better listen when he talks, because it's usually something important."
Sounds impressive! Here are some samples of Prend's gargantuan excogitation:
"It is our experience that these down cycles become up cycles, and we have almost 40 plus companies in our portfolio that we believe are well poised to produce strong returns for our investors," he said…

Clean tech "is bigger than we ever thought it would be, and there are many macro factors that will cause it to continue to grow," he said, citing the electrification of transportation, green buildings, and the role of the Internet in energy conservation. "The opportunities are varied, global and gigantic."
And the nut of the sad saga, which begins with Prend's $16 million investment in the company in 2006:
Solyndra caught the eye of VC funds with a new technology for turning solar rays into electricity using long round tubes rather than flat panels in order to absorb more sunlight.

There were two reasons these were expected to be cheaper than traditional photovoltaic panels: first, the tubes, shaped like fluorescent light bulbs, could be made in a highly automated factory, which would offset the cheap-labor advantage of Chinese plants. Second, Solyndra's recipe for converting sunlight to electricity didn't require expensive silicon, relying instead on a mixture of copper, indium, gallium and selenide, or CIGS.

Prend bought it. He invested another $6 million in 2007, around the same time a number of other private investors, including Henry Kravis's KKR, Madrone Capital Partners, which invests on behalf of Wal-Mart heirs, and Argonaut Private Equity, a fund attached to Obama fundraiser George Kaiser, put in cash. Solyndra raised $215.9 million that year. In October that year, President George W. Bush's Department of Energy announced its final rules for a green-tech loan-guarantee program, listing Solyndra as one of just 16 companies already approved to apply for the loans. Others on the eligibility list included Tesla and solar company BrightSource Energy.

At first things seemed to be going well. In 2008, Solyndra started shipping its tubular panels and announced it had $1.2 billion in orders. RockPort put more than $30 million into the company over 2008 and 2009. The next year, Solyndra's $535 million DOE loan came through, and the company quickly filed for an initial public offering.

But behind the scenes, the situation was deteriorating. The global economic crisis deflated the sky-high valuations of clean-tech startups. Solyndra, for instance, fell from a valuation of $1.4 billion in July of 2008 to $791 million in little more than a year, according to Thomson Reuters data. Even established players such as publicly traded solar panel maker First Solar suffered big declines; its stock dropped 43 percent in this same time frame.

Sales lagged, too. Customers held off buying anything they didn't absolutely need, including solar energy. And those who did invest often chose cheaper products from China, where the government was aggressively subsidizing solar companies. Silicon prices were falling fast, which meant Solyndra's silicon-free technology lost its cost advantage.
Note that all the above took place before Energy Secretary Steven Chu decided to give the company $535 million of your money – of which Solyndra managed to disappear $528 million before going bankrupt.