Madonna: Not Her Brother's Keeper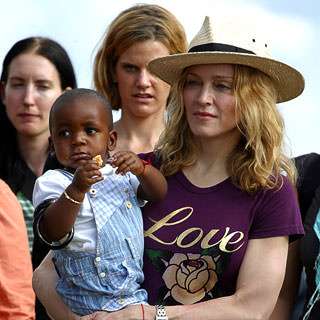 For the Material Girl, charity, apparently, does not begin at home. Born and raised in Bay City, Michigan, Madonna gave $135,600 in campaign donations to Democrats last year. And two years ago she contributed $11 million of her own money toward Raising Malawi, an elite academy she founded for impoverished girls in Malawi. The academy was abandoned this year after $3.8 million was spent without a brick ever being laid.
But Michigan Messenger, the local Traverse City newspaper, reported yesterday that when it comes to her own brother, the 50-year-old superstar is AWOL. The city's exceptional network of services for people on the street has made it a magnet for homeless people all over Michigan. And among them is Anthony Ciccone.
Ciccone told the paper that he's been among the city's homeless for a year and a half since losing a job at his father's vineyard and winery in Suttons Bay. The paper reports:
He said that it annoys him that some people are amused that a person from such a high-profile family would end up sleeping, as he does, under the Union St. bridge.

"My family turned their back on me, basically, when I was having a hard time," he said. "You think I haven't answered this kind of question a bazillion times — why my sister is a multibazillionarie, and I'm homeless on the street?"

"Never say never," he said. "This could happen to anybody."

"I don't have any income, I've got to go collect bottles and cans, do odd jobs."

Despite the uncommon community effort to help the homeless here, there are gaps, and Ciccone was among several locals who got cold-related injuries last winter.

"They can't do everything all the time for everybody, they just don't have the resources," he said. "These people that run these things are all volunteers, they don't get paid to do these things."

In the cold seasons the church shelters usher people out at 8 am and city rules against camping and camp fires make staying warm difficult.

"Where do you go at 8 o'clock on a Sunday morning and you have no money in your pocket?"

If you spend enough time on frozen concrete without proper insulation you will get frostbite, he said. "You have no idea how gruesome it is."

"You get nerve damage. That's the milder stage, in the severe stage you have tissue damage, that is when you lose parts of your body."

"I got frostbite on my feet last winter, Ciccone said. "A friend of mine lost all ten toes. Several have died of hypothermia."

"You go and find a place to stay warm like the lobby at the jail, or you take a walk to get your feet warm and go to Meijer's and sit in the lobby there."
Madonna is a big fan of Obama (obviously), even campaigning against John McCain (who has devoted his life to raising his adopted children from Bangladesh). But instead of supporting someone who would spread other people's wealth to her brother while she spreads her own wealth to other people, wouldn't it be nicer (and more efficient) if she just spread her own wealth to her own brother?
Of course, there would be no photo-ops in that!