White House Consulted With Romney Advisers on ObamaCare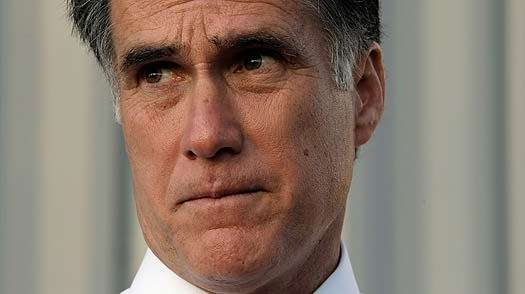 Here's what Mitt Romney thinks of ObamaCare: It's a "power grab by the federal government" that amounts to a "government takeover of healthcare." It not only proves that the folks running Obama administration distrust states, it proves that they are so anti-federalist in mindset that they "fundamentally [don't] believe in the American experiment."
When pressed on the White House's oft-repeated claim that ObamaCare was inspired by RomneyCare, the similarly structured state-based health care reform that Romney signed into law as governor of Massachusetts, has retorted that "[Obama] does me the great favor of saying that I was the inspiration of his plan. If that's the case, why didn't you call me?"
Obama may not have called Romney. But according to NBC News, he did call the top policy advisers responsible for helping Romney design and implement the law.
Newly obtained White House records provide fresh details on how senior Obama administration officials used Mitt Romney's landmark health-care law in Massachusetts as a model for the new federal law, including recruiting some of Romney's own health care advisers and experts to help craft the act now derided by Republicans as "Obamacare."

The records, gleaned from White House visitor logs reviewed by NBC News, show that senior White House officials had a dozen meetings in 2009 with three health-care advisers and experts who helped shape the health care reform law signed by Romney in 2006, when the Republican presidential candidate was governor of Massachusetts. One of those meetings, on July 20, 2009, was in the Oval Office and presided over by President Barack Obama, the records show.

"The White House wanted to lean a lot on what we'd done in Massachusetts," said Jon Gruber, an MIT economist who advised the Romney administration on health care and who attended five meetings at the Obama White House in 2009, including the meeting with the president. "They really wanted to know how we can take that same approach we used in Massachusetts and turn that into a national model."

…Another Romney administration adviser consulted by the White House was Jon Kingsdale, a health-care expert who was appointed in 2006 by one of Romney's Cabinet secretaries, Thomas Trimarco, to serve as executive director of the Commonwealth Health Insurance Connector Authority — the state agency charged with implementing the new Massachusetts health-care law.
To some extent, this doesn't tell us much we didn't already know. Gruber, a prominent health wonk and a longtime backer of the regulate/subsidize/mandate approach employed by both RomneyCare and ObamaCare, was paid nearly $400,000 in consulting fees to help the Obama administration model the law's health insurance effects. Kingsdale left his post running the Massachusetts insurance exchange in 2010 and has since co-founded a health care consulting firm. A bio published by the firm notes that since leaving the Massachusetts job he's "consulted to the White House" on the health care overhaul generally and insurance exchange implementation in specific.
It's been clear for a while that the White House has been relying on several of Romney's advisers to help implement ObamaCare. But this report makes the link between the two laws even more explicit, and will probably make it harder for Romney to pretend the connection doesn't exist.