Solyndra: A Big Story for the Wrong Reasons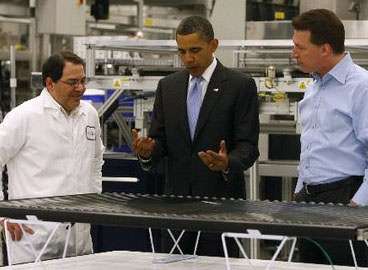 A bankrupt green energy company will create both real and political problems for President Obama today, as the U.S. House of Representatives continues its investigation into how Fremont, California-based Solyndra LLC used its access to the president and his inner circle in order to secure and lose half a billion taxpayer dollars.
Until last Thursday, the investigation into Solyndra had been coming only from the legislative branch of the federal government. In February, House Energy and Commerce Committee Chairman Fred Upton (R-Michigan ) opened a probe into a $535-million loan guarantee awarded to the maker of innovative solar panels by the Obama Department of Energy. That loan followed multiple visits to the White House by Solyndra officers and by George Kaiser, a Tulsa, Oklahoma billionaire and Obama fundraiser. Late in August Solyndra announced it would declare bankruptcy.
Last week, following a cycle of negative news coverage and revelations about the company's close ties to the president, the executive branch response began with a raid on Solyndra's headquarters by the Federal Bureau of Investigation and the Department of Energy's Inspector General. News coverage highlighting DoE Inspector General Gregory Friedman's hawkishness about insufficient due diligence in making lending decisions suggests the Obama Administration's image management apparatus is making an effort to show the president takes the Solyndra scandal seriously.
Because of the depth and documentation of Obama's relationship with Solyndra, as well as new House revelations that White House officials pressed the Energy Department to expedite its lending to the troubled company, the effort to distance him from the scandal will almost certainly fail. Obama did a photo opp at Solyndra headquarters last year and has emphasized the company's cylindrical solar panels in his propaganda for green energy subsidies. Kaiser, whose Argonaut Ventures owned a 35 percent stake in Solyndra, bundled nearly $100,000 for Obama's 2008 campaign. Solyndra executives met with White House executives about 20 times. In the period before and just after the March 2009 loan guarantee (Solyndra eventually borrowed and blew through $527 million), Kaiser met with senior advisors Austan Goolsbee, Pete Rouse and Valerie Jarrett; chief of staff Rahm Emanuel, and others.
FBI and Energy both report to the president. While suspicion of overt crime could have triggered the executive-branch investigation, the involvement of these two departments clouds what had been a straightforward congressional investigation. In addition to the risk that Obama appointees can steer investigators away from evidence harmful to the president, the involvement of a competing presidential investigation detracts from what has so far been very effective work by the House.
Shortly after Solyndra announced its bankruptcy, I made the none-too-daring prediction that this scandal would prove to be durable. The figure of a half-billion dollars is easy to understand yet still incomprehensibly large. There is no distance between the president and the scandal. And the company name is memorably goofy enough that there's no need to add the lame suffix "-gate."
Ron Bailey remarked earlier that Solyndra is already getting shoehorned into Republocrat he-said-she-said. Although it would be a shame if this lesson in the folly of subsidizing industry degenerated into simple point-scoring, it's also true that in this case it is because of competitive politics that we know about the scandal at all. Solyndra's dim financial prospects, its dubious technology and its unlikely survival as anything other than a ward of the state were known before the loan was approved. (In a Business Insider article, Bruce Krasting says the company's only valuable item may be its net operating loss.) Yet in the period after that loan, Solyndra continued to behave as a green-energy market leader, even attempting an initial public offering. Who knows how much longer the company could have gone on wasting public money, deluding investors and delaying formal bankruptcy, if not for Upton's investigation?
It's also clear that "contextualizing" the Solyndra scandal in the way Bailey regretted (by noting that Republicans do it too) only makes the story more infuriating. While Solyndra will be useful as a campaign issue, the real outrage is that the government is proudly putting your money into companies that private investors are unwilling to put their own money into. Once this violation of common sense has taken place, the story can only end, as it appears to have ended here, in suffering and crime. That's not a corruption of the system. It's the natural way the system works.