How Much Will Obama Spend to Replace the 1 Percent of Schools That Principals Say Are Actually Falling Apart?
From Obama's speech last night, a pledge to spend a lot of money building or rebuilding K-12 schools:
There are schools throughout this country that desperately need renovating. How can we expect our kids to do their best in places that are literally falling apart? This is America. Every child deserves a great school – and we can give it to them, if we act now.

The American Jobs Act will repair and modernize at least 35,000 schools. It will put people to work right now fixing roofs and windows; installing science labs and high-speed internet in classrooms all across this country.
Which raises the question: What's been going on for the past few years on that score? Are the nation's learning centers being starved by the local and state governments that traditionally service them?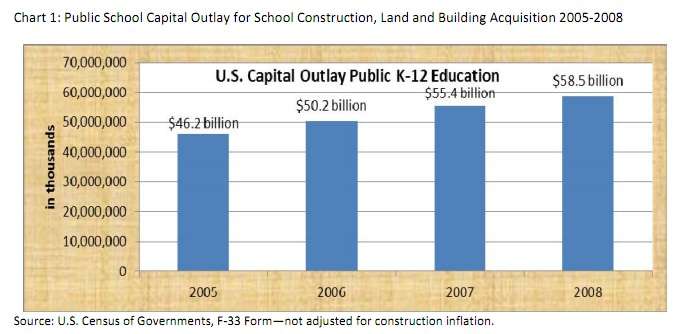 Here's a chart from a group called the 21st Century School Fund. This covers not just capital outlays for new construction and acquisitions over the past several years but also "major renovation" projects. Elsewhere, the same group writes that the long-term debt for state and local governments related to school construction costs was $369 billion at the end of 2008. Capital costs for construction don't include equipment costs, by the way, which would drive the numbers higher still. Currently local governments pony up about 77 73 percent of the costs and states cover 33 27 percent.
Obama's pledge to bring federal dollars to the K-12 construction business is not exactly unprecendented: His 2009 stimulus committed about $870 million toward that end, much of it going through the Departments of Defense (for schools on military bases) and Interior (for schools on Indian reservations).
Is almost $60 billion a year on new schools and rehabbing old ones not enough to cover the needs of about 55 million K-12 students in about 133,000 individual facilities spread over about 14,000 school districts? In 2005, the Dept. of Education asked K-12 principals to "describe the extent to which various environmental factors interfered with classroom instruction condition of their facilities." Here's the summarized response:
A majority of schools, 56 percent, reported that various environmental factors, taken together, did not interfere at all with the delivery of instruction in permanent buildings, while the remainder reported at least some interference: 33 percent reported minor interference, 9 percent reported moderate interference, while only 1 percent reported major interference.
The comparable aggregate figure for major interference at portable buildings came in at 2 percent.
Obama didn't say exactly how much the feds would be bringing to the table or how it would be disbursed. But if Obama is pledging to help 35,000 schools, then he's looking to push cash toward 26 percent of existing school buildings, far above the percentage named by principals as presenting serious problems in terms of educating kids.
And if patterns of previous stimulus spending and increases in education funding yielding no improvements in student outcomes are any indication, any federal dollars will be more money down the drain, both in terms of creating jobs and fixing roofs.