The Nanny State's "Bill of Rights"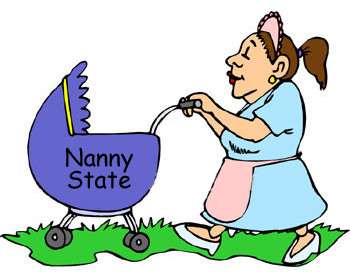 How debased is the term "Bill of Rights" in modern legislative parlance? This debased–California's Assembly has passed, and its Senate is considering, a "Domestic Worker's Bill of Rights." Unlike the original Bill of Rights, which placed limitations on what government to do its citizens, AB 889 demonstrates that government nowadays recognizes few if any bounds at all. Here's how State Sen. Doug LaMalfa (R-Redding) characterizes it:
Under AB 889, household "employers" (aka "parents") who hire a babysitter on a Friday night will be legally obligated to pay at least minimum wage to any sitter over the age of 18 (unless it is a family member), provide a substitute caregiver every two hours to cover rest and meal breaks, in addition to workers' compensation coverage, overtime pay, and a meticulously calculated timecard/paycheck.

Failure to abide by any of these provisions may result in a legal cause of action against the employer including cumulative penalties, attorneys' fees, legal costs and expenses associated with hiring expert witnesses, an unprecedented measure of legal recourse provided no other class of workers – from agricultural laborers to garment manufacturers. (On the bright side, language requiring an hour of paid vacation time for every 30 hours worked was amended out of the bill in the Senate.)
As the part-time employer of a nanny (who we pay $15 an hour, including vacation weeks back when she was at or over half-time), I found this section of the bill to be more fetal-position-inducing than edible hallucinogens:
Every employer shall, semimonthly or at the time of each payment of wages, furnish each of his or her employees, either as a detachable part of the check, draft, or voucher paying the employee's wages, or separately when wages are paid by personal check or cash, an accurate itemized statement in writing showing (1) gross wages earned, (2) total hours worked by the employee, except for any employee whose compensation is solely based on a salary and who is exempt from payment of overtime under subdivision (a) of Section 515 or any applicable order of the Industrial Welfare Commission, (3) the number of piece-rate units earned and any applicable piece rate if the employee is paid on a piece-rate basis, (4) all

deductions, provided that all deductions made on written orders of the employee may be aggregated and shown as one item, (5) net wages earned, (6) the inclusive dates of the period for which the employee is paid, (7) the name of the employee and his or her social security number, except that by January 1, 2008, only the last four digits of his or her social security number or an employee identification number other than a social security number may be shown on the itemized statement, (8) the name and address of the legal entity that is the employer, and (9) all applicable hourly rates in effect during the pay period and the corresponding number of hours worked at each hourly rate by the employee. The deductions made from payments of wages shall be recorded in ink or other indelible form, properly dated, showing the month, day, and year, and a copy of the statement or a record of the deductions shall be kept on file by the employer for at least three years at the place of employment or at a central location within the State of California.
AAAAAAAAAAAAAGGGGGGGGGHHHHHHHHHH!!!!!!
To show you where the Golden State's political culture is at, the SF Weekly as a result approvingly proclaimed 2011 as "California's Year of the Nanny." Though New York did get there first.
LaMalfa link via the Twitter feed of Radley Balko.