Fullerton Cops Who Beat Kelly Thomas Into a Coma Placed on Leave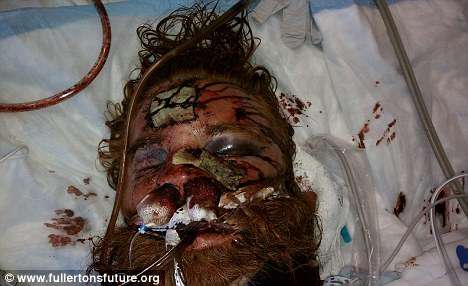 Three weeks after the parents of Kelly Thomas' took their homeless schizophrenic son off life support, the six Fullerton police officers involved in his brutal beating have been placed on leave:
One officer was placed on leave days after the incident. The other five were reassigned to nonpatrol duty Friday and then placed on leave Tuesday by order of Chief Michael Sellers, according to Sgt. Andrew Goodrich, a department spokesman.

Thomas' father, Ron Thomas, said the announcement that the officers had been placed on leave came a few hours after he met with the chief Tuesday afternoon.

Nevertheless, at an overflowing City Council meeting Tuesday night, dozens of people called for the chief's resignation over the incident.
One of those officers is possibly Jay Cicinelli. A man claiming to work with Cicinelli says that the officer bragged in the police station lockerrom about beating Thomas.
More Kelly Thomas coverage here.