Fullerton Cop Allegedly Bragged About Brutally Beating Homeless Man Kelly Thomas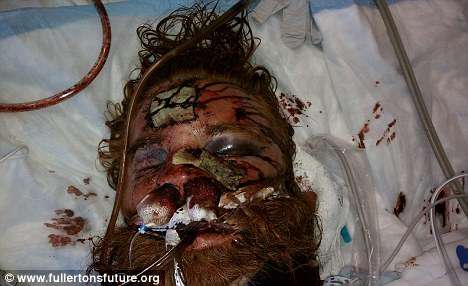 The savage police beating of schizophrenic homeless man Kelly Thomas gets more bizarre and upsetting by the day. On Friday an anonymous man claiming to be a police officer called the John and Ken Show on KFI AM to express his and other cops' anger at what happened to Thomas. The caller claimed that a street camera controlled by a police dispatcher showed one cop beating Thomas with the butt of his Taser until blood splattered on his arms, and then dropping his knee on Thomas's face and neck.
That same caller called the show again yesterday, this time disguising his voice. According to Carlos Miller, the caller alleged:
…that it was [a] one-eyed officer doing the beating….He said the quality of the surveillance camera is so good that it could pinpoint the freckles on a person's chest once it is zoomed in.

He said the district attorney's office is choosing to not release the video.

He also said most of the officers know the identities of the officers involved and many are not happy with what took place.

He said they were turned off by how the one-eyed officer bragged about the beating and many officers have not been happy with his "heavy-handed tactics" from before the incident.

Five of the six officers who took place in the beating remain on active duty. The sixth is on some type of medical leave.

The one-eyed officer has been transferred to the undercover gang unit, the caller said.
Friends for Fullerton's Future has identified the one-eyed cop as Jay Cicinelli, who was discharged from the LAPD after a suspect shot him in the eye in 1996, blinding him. Cicinelli was 26 and fresh out of police academy. According to the LA Times trial dispatch from 1998, a letter from Cicinelli's mother was read aloud at the sentencing of Cicinelli's shooter, who received life in prison for attempted murder. Here's what she said:
"Mr. Jimenez, you have taken Jay's eye, his face is disfigured, you have damaged his arms, his legs and his stomach, his job is gone and his dream of being a police officer is gone."
If Cicinelli was involved in Thomas' death, and gets convicted for that involvement, I'm guessing Thomas' parents--one of whom is a former police officer--will be reading a similar letter.
More coverage of Kelly Thomas here.