FBI Investigating "Scuffle" In Which Five Fullerton Cops Beat Kelly Thomas Into a Coma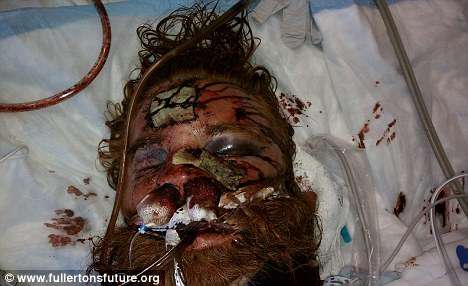 The FBI announced over the weekend that it is investigating the early July beating of homeless man Kelly Thomas. On July 5, five Fullerton cops attempted to search Thomas while responding to a call about burglarized cars. When Thomas, a 135-pound schizophrenic, resisted arrest, the officers tazed him and beat him with their flashlights. Thomas was in a coma for five days, until his family took him off life support. Orange County Supervisor Shawn Nelson sent a letter last week to the DOJ requesting a federal investigation investigation.
In its story on the community reaction to Thomas' death, NBCLA called the brutal beating a "scuffle." The local news site also covered a community rally for Thomas, who was unrecognizable to his parents when they arrived at the hospital. "The protesters held signs of support," wrote reporter Angie Crouch, "and called for the police to take action against what some in the crowd labeled 'Police Brutality' on posters." Emphasis mine.
What happens now? The Orange County District Attorney's office is conducting an investigation into whether the officers did something they should not have done. The FBI investigation will focus on whether Thomas' civil rights were violated. The OC Weekly reports that the OC DA's office has already offered the Thomas family $900,000 to head off a civil suit. "A city official reportedly told the parents that they would have offered more money but their son was 'no rocket scientist.'"
As for the officers? The Orange County Register reported on Friday that four of the five were back on duty:
One of the officers is now on administrative leave. While the five other officers have since returned to active duty, Fullerton police Chief Michael Sellers on Friday evening temporarily reassigned them away from front-line patrol duties.

"In other words, they are not working the streets," Fullerton police Sgt. Andrew Goodrich said. "The chief said that for the sake of public trust and confidence, and in the best interest of the investigation, he made these reassignments."
No word as to whether the officer on administrative leave is getting paid. OC Councilwoman Sharon Quirk-Silva has asked Sunday that all the officers involved in the incident be put on paid administrative leave. "I not only request, but demand that action be taken to remove all police officers involved with this incident. Every time a siren goes off in Fullerton a wave of concern settles in," Quirk-Silva wrote in an email obtained by the Register, which reports that there were actually six officers involved in Thomas' beating. In addition to the four still working and the one on administrative leave, a sixth officer involved in the incident (to what extent isn't really clear) is on medical leave.
NBC link via Forbes' E.D. Kain.