Texas Appeals Court Rejects Developer's Defamation Claims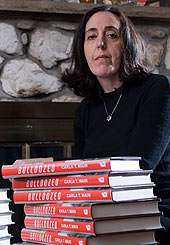 This week a Texas appeals court threw out nearly all of Dallas developer H. Walker Royall's defamation lawsuit against Carla Main, author of Bulldozed, a 2007 book about eminent domain abuse, and her publisher, Encounter Books. Royall—who initially sued not only Main and Encounter but also a newspaperthat that published a review of the book, along with University of Chicago law professor Richard Epstein, who provided a blurb for it—did not like the way he was portrayed in Main's discussion of a marina project in Freeport, Texas, that involved seizing land from a local shrimping business. In November 2009, the trial court rejected Main and Encounter's argument that Royall's lawsuit should be dismissed because Bulldozed is protected by the First Amendment. But Texas law allows the immediate appeal of such decisions, and yesterday the Court of Appeals for the 5th District of Texas ruled that Royall had failed to specify anything in the book that defamed him. "We have examined the 79 grounds in the no-evidence motion that address statements in the book and have concluded that Royall did not raise a genuine issue of material fact regarding any of the grounds," the court said.
That conclusion is remarkable given the highly favorable standard that Royall enjoyed at this stage of the case. He would have been allowed to proceed if he had offered "more than a scintilla of evidence" on each of three points required to win: 1) that the defendant published a statement of fact, 2) that the statement was defamatory, and 3) that the defendant acted with "actual malice" regarding the truth of the statement (in a case involving a public figure). Furthermore, Royal was entitled to "every reasonable inference" and the benefit of any doubt. Yet in the appeals court's judgment, he had essentially no chance of prevailing on any of his allegations concerning the book. The only remaining issues, which were sent back to the trial court for further consideration, relate to whether Main and Encounter "aided, abetted, and ratified others' defamatory statements" about Royall.
"Walker Royall has failed in his attempt to use this frivolous defamation lawsuit as a weapon to silence his critics," says Dana Berliner, a senior attorney at the Institute for Justice, which is representing Main and Encounter. "The appeals court has exposed the frivolity of Royall's lawsuit, holding that Royall failed to prove that a single word of Bulldozed defames him."
That is the positive spin. Here is the negative spin: In our system of justice, rich people with thin skins don't need any evidence to drag their critics into an expensive, time-consuming, anxiety-provoking legal process that lasts for years. For any journalist who has ever wondered whether he could be sued over something he wrote that reflected badly on someone (which some of us do several times a day), the answer is yes: You can be sued over anything. The suit may not be legally successful, but if the plaintiff's goal is to punish you for the offense you caused him and make you (and everyone else) think twice before writing about him again, he wins whether or not he ultimately can prevail in court.
Previous coverage of Royall's lawsuit against Main here and here.