It's Not That We're Against Food Trucks, it's That They're "technically illegal"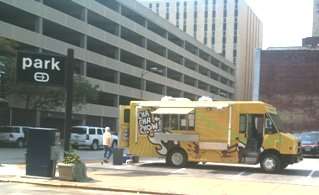 The city of St. Louis bravely cracks down on businesses that bring tasty products near to where people work:
A health inspector confronted The Sweet Divine cupcake truck on Tuesday, and a police officer issued a warning to the Cha Cha Chow truck on Wednesday at Euclid Avenue and Forest Park Parkway, in front of the Center for Advanced Medicine.

Cha Cha Chow, a visitor at that site for months, was told it was violating an ordinance that prohibits vending on public streets in that part of the city. The ordinance is not new, but has become more of a priority, a police officer said.

Jenna Siebert, an owner of Sweet Divine, said a health department inspector warned her if she didn't leave the BJC campus, the license collector's office would fine her for vending violations. The inspector also said Siebert could sell only pre-packaged items. Siebert said that although she has a city business license, she left to avoid further trouble with the city.

Kara Bowlin, a spokeswoman for Mayor Francis Slay, said food trucks present a unique enforcement issue.

"The area in question is indeed a 'no-vending' zone," Bowlin said, adding that the vending ordinance was written several years ago to deal with street cart vendors and does not specifically address the newer food trucks. […]

Pam Walker, city health director, said police had asked her department to check the trucks parked at BJC.

Bowlin said the mayor's office generally supports food trucks in St. Louis, but emphasized they are technically illegal in many areas.

Both Bowlin and Walker said the city's informal policy on food trucks is that they should park where people appreciate their presence.
I've got an idea for a policy, whether formal or informal: Let people sell food to other people who would like to eat it, and use police power to go after criminals. Crazy talk, I know.
Reason on food trucks here; One of Reason.tv's videos on the subject below. Thanks to Mark Sletten for the link.