Lemonade-Stand Crackdown Continues: Cops Make Girls Cry From Georgia to Wisconsin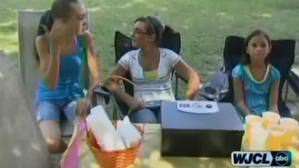 From the Associated Press:
Police in Georgia have shut down a lemonade stand run by three girls trying to save up for a trip to a water park, saying they didn't have a business license or the required permits.

Midway Police Chief Kelly Morningstar says police also didn't know how the lemonade was made, who made it or what was in it. […]

The girls needed a business license, peddler's permit and food permit to operate, even on residential property. The permits cost $50 a day or $180 per year. […]

The girls are now doing chores and yard work to make money.
Surely an isolated incident of over-zealous regulation and enforcement, right? Tell it to Appleton, Wisconsin!
Two young girls sell lemonade and cookies every year near their house during Appleton's Old Car Show. But this year that changed.

"We had a knock on the door from our local police officer who had to deliver us the news," said Mann.

Because of a new city ordinance, Margi Mann's daughter Lydia could no longer sell her lemonade. And their neighbor couldn't sell her cookies.

"There were tears at first. There was big disappointment. When you're nine and somebody tells you you can't, you're not happy," said Mann. "It's just a lemonade stand, so that's the part that's disheartening."

"I'm sad that we probably won't be able to do it anymore," said Lydia Coenen, Mann's daughter.

On June 1, the Appleton city council passed an ordinance preventing vendors from selling products within a two-block radius of local events. That includes Lydia's lemonade stand. She lives just one block from the car show, held at Pierce Park every July. Mann says the officer tried to see if the department could make an exception, but was told they had to follow the ordinance.

"Since I had 20-some-odd jars of lemonade in my refrigerator, we made the decision along with our neighbors whose daughter is selling the cookies, that we would just give them away free today," said Mann.
You will love this quote from local Alderman Peter Stueck:
"It's certainly not that Appleton is against little girls setting up their cookie and lemonade stands. But the overall intent of the ordinance was to protect the vendors at these events," said Stueck. "To get a little bit of security to the vendors who were at the events."
Actually , Appleton is against little girls setting up their cookie and lemonade stands, as evidenced by the fact that the city made it illegal and then the cops enforced the law.
Thanks to Ray Eckhart for the Georgia link. The Reason archive, sadly, is jam-packed with lemonade-stand crackdowns. Here's a recent Reason.tv vid on the subject: