Another Victory in Drug Harm Multiplication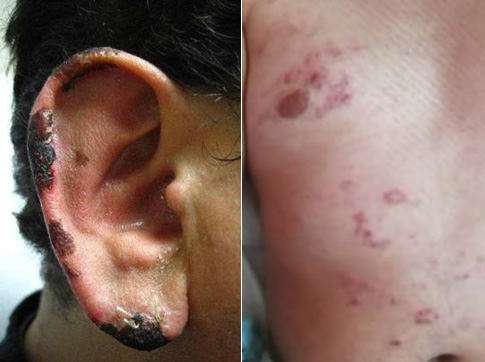 A recent report in The Journal of the American Academy of Dermatology describes six additional cases of icky skin conditions linked to cocaine cut with levamisole, a veterinary drug that the government says can now be found in something like 80 percent of the country's illicit cocaine. Assuming that's true, such side effects seem to be fairly rare, although the authors worry that they represent "a potential public health epidemic." The reported cases involved "retiform purpura on the body and tender purpuric eruptions, necrosis, and eschars of the ears." Co-author Mary Gail Mercurio, a dermatologist at the University of Rochester Medical Center, says, "We've seen very profound areas of necrosis—dying skin—usually located on scalp, ears, face and elsewhere on the body. It's very alarming." Or as the New York Daily News sums it up: "Cocaine used to just get you high. Now it rots your skin."
As I have pointed out before, cocaine acquired this feature thanks to the government's strenuous product development efforts, a.k.a. prohibition, which makes drugs more dangerous by encouraging additives and undermining quality. Levamisole exposure (which has never been a problem with legal cocaine, a Schedule II drug that can be used as a local anesthetic) is also associated with agranulocytosis, a reduction in white blood cell production that leaves the body vulnerable to various infections. More on the subject here, here, and here.