The Worst Part of Global Warming Will be the Lack of Icebergs For People Bob Dylan's Age or, Boomers Better Start Swimming or They'll Sink Like a Stone, For The Times They Are A-Changin'
Bob Dylan—You Can Call Him Zimmy—recently turned 70 years old, which means he's almost certainly drawing a monthly Social Security check for as much as $2,346 that's being paid for by the relatively young and poor of America. That's how Social Security works, after all. The program will run a cash flow deficit starting this year; in any case, today's benefits are financed by taxes paid by today's workers. The old are generally wealthier than the young.
Does Bob Dylan support the privatization of Social Security? I don't know, but he's on the record (in the great Beat-style masterpiece, Chronicles, Vol. 1) as saying that back in his Greenwich Village salad days his "favorite politician was Arizona Senator Barry Goldwater," so you never know (even if Sen. G. favored the damnable program that is promising younger Americans negative returns on our mandatory "investments").
Dylan, the most important creative figure in America of the past 50 years (my opinion!), was once young and he was once rumored to speak for the young. And what do young Americans think about Social Security? The Reason Foundation-Rupe poll, taken a few months back, shows serious support for lowering payroll taxes and letting folks invest in their own retirement among people under the age of 55. Take a look: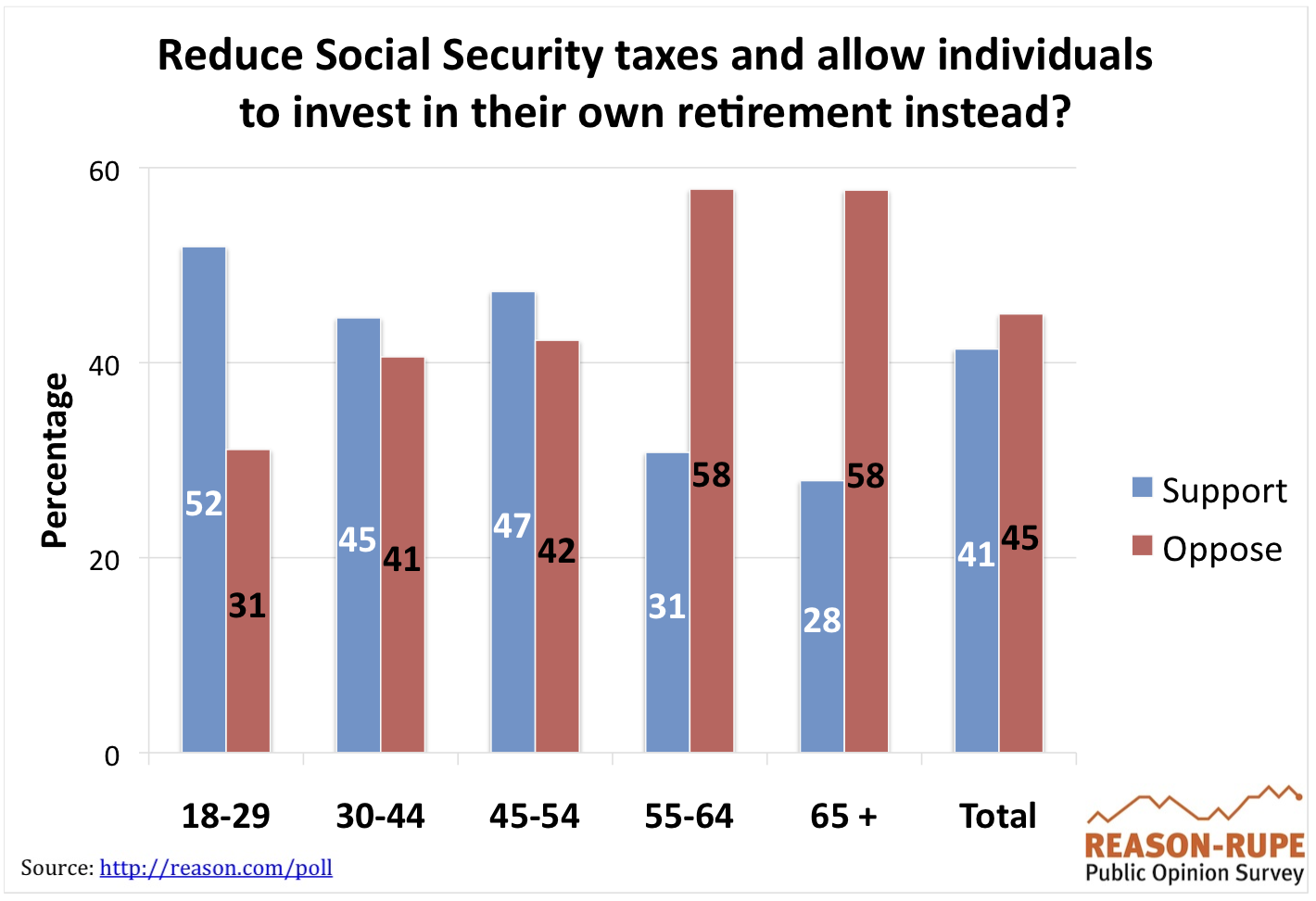 There's no question that reforming (i.e., ending in its current form) Social Security will take a long time, a lot of blood, sweat, toil, and tears. But it's also true that a system that takes from the relatively poor and gives to the relatively rich is not simply fiscally dubious but morally repellent. America in the 21st century is a vastly different place than was period that midwifed Social Security. Old people are not necessarily poor anymore and those that can afford to pay their own way in retirement (here's to you Bobby D!) should do so. With that sort of savings, we can lower payroll taxes for all and effectively target folks who really need the help.
Now take it away Dylan, with "Precious Angel," the great pre-Rapture song on his greatest album that shows us how weak was the foundation we are standing upon (listening suggestion: read Brian Doherty's classic appreciation of Bob Dylan while feeling the chills going up and down your spine during this, the greatest vocal performance in the Maestro's vast discography):