L.A. Times Multiple Choice: A) Raise Taxes B) Raise Taxes C) Raise Taxes
Tired of democracy? Looking for old media experts with six-figure salaries to tell you what the grownups have decided?
Trying to figure out what could possibly be left to cut in a state that is down to the bare bones of $1,000 Fogo de Chão dinners for government employees, 278 state parks, fully staffed boards of chiropractic services and horse racing, a government-operated lottery [pdf], free rides to Dodgers games, and half a trillion dollars in unfunded pension liabilities?
Fear not. The L.A. Times shows the full breadth of opinion – from judiciously pro-taxation to passionately pro-taxation to sneeringly pro-taxation. Today, we learn from the paper's three weightiest columnists – literally: these aging white males collectively weigh in at north of a quarter-ton shortweight (source: Celebrity Sleuth) – that the state needs to raise taxes, that the people of California want their taxes raised, and that even if the people (who have in fact not voted to approve any tax in nearly 20 years) don't want their taxes raised, this just proves they're ignorant.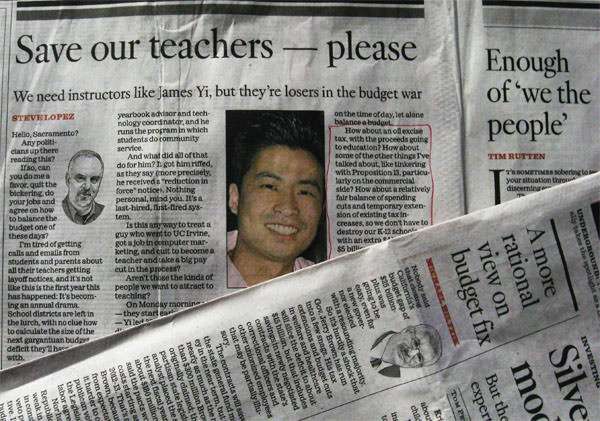 First up: sanctimonious endomorph Tim Rutten, in a column titled "Enough of 'we the people'"
The facts cited by the [Economist] magazine's Andreas Kluth are well known to even casual students of state government, but the context and perspective are bracing — and suggest both a short- and long-term way out of the morass. The former ought to begin with Gov. Jerry Brown walking away from his campaign promise to submit any tax increase to a popular vote.
Next: Don't-confuse-me-with-your-math populist Steve Lopez, with "Save our teachers – please"
How about an oil excise tax, with the proceeds going to education? How about some of the other things I've talked about, like tinkering with Proposition 13, particularly on the commercial side? How about a relatively fair balance of spending cuts and temporary extension of existing tax increases, so we don't have to destroy our K-12 schools with an extra $4 billion to $5 billion in cuts?
Last and least: Pulitzer-winning sockpuppet Michael Hiltzik, "A more rational view on budget fix"
On the positive side, it looks as though Californians are moving toward a more rational approach to closing the budget deficit with tax increases as well as spending cuts. A Times/USC Dornsife poll released last weekend found that 60% of those surveyed backed the idea of voting on the tax increases — a majority of both Democrats and Republicans.

[…]

[B]ut so far [Gov. Jerry Brown] hasn't turned his attention to other sources of revenue that other states exploit but California ignores, such as an oil severance tax and a fairer approach to assessing commercial and industrial property.
This is why I read the L.A. Times: for that instinctive sense of what Californians want, or least what Californians would want if we knew what was best for us.