DoJ Forms "Oil and Gas Price Fraud Working Group"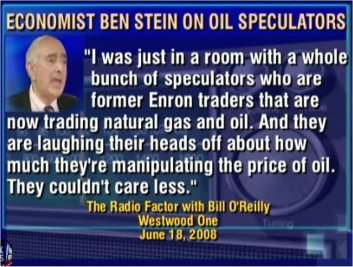 Here's your federal energy policy: Do nothing significant to increase domestic supply, create mandates to have XX% of future supply come from magical green leprechauns, then when prices (surprise!) go up, you know what to do: Blame the "speculators":
Attorney General Eric Holder today announced the formation of a Financial Fraud Enforcement Task Force Working Group to focus specifically on fraud in the energy markets. The Oil and Gas Price Fraud Working Group will monitor oil and gas markets for potential violations of criminal or civil laws to safeguard against unlawful consumer harm. […]

"Rapidly rising gasoline prices are pinching the pockets of consumers across the country," said Attorney General Holder. "We will be vigilant in monitoring the oil and gas markets for any wrongdoing so that consumers can be confident they are not paying higher prices as a result of illegal activity. If illegal conduct is responsible for increasing gas prices, state and federal authorities should take swift action."
Holder's "how high?" memo here [PDF]. President Barack Obama's money quote:
"The attorney general's putting together a team whose job it will be to root out any cases of fraud or manipulation in the oil markets that might affect gas prices – and that includes the role of traders and speculators," President Obama said at a town hall meeting in Nevada on Thursday. "We are going to make sure that no one is taking advantage of American consumers for their own short-term gain."
It says a lot about how debased our politics have become that we could have expected this kind of aggressive economic ignorance had the other party won the presidency, too.
More on the latest push here. Reason on oil speculation here and here.