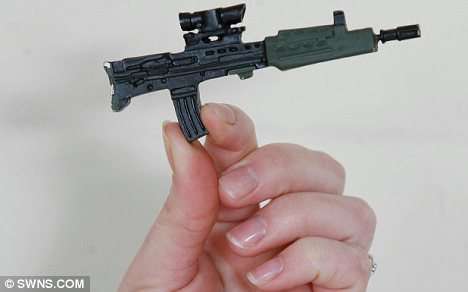 British airport officials have apparently received intelligence that Al Qaeda is recruiting an army of nine-inch terrorists.
Airport officials ordered a holidaymaker carrying a toy soldier onto a plane to remove its three-inch gun—because it was a safety threat.

Ken Lloyd was stunned when he was told he could not go on the plane with the nine-inch model soldier because it was carrying a 'firearm'.

The Canadian tourist and his wife had bought the toy, which holds a replica SA80 rifle, during a visit to the Royal Signals Museum at Blandford Camp in Dorset.

But when he tried to take the £135 keepsake through Gatwick Airport in his hand luggage it triggered a security alert at the scanners…

Officials declared the moulded gun could not go on the plane and Mr Lloyd had to snap off the model weapon and then post it back to his home in Ontario.

He said: 'As the figurine's SA80 rifle was pulled from the box, the security search officer contacted her supervisor. The moulded SA80 could not pass.

'My wife asked for a "reality check", explaining how this offending piece of sculptured moulding is a 9 inch painted model with a moulded and painted rifle that is part of the figure.

'The supervisor was confident within the surety of the regulations and said a "firearm" is a firearm and cannot pass.