LAT: All 1,023 Fired School Admins Were Above Average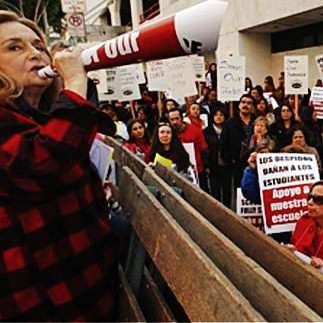 We shouldn't laugh at other people's misfortunes, and I liked a (very) few of the apparatchiks who manned chairs at my kid's old school. So it's strictly in the spirit of finding moments of humor in tragedy that I point out some of the details in this Rick Rojas story about layoffs (of support staff, not teachers) at the Los Angeles Unified School District:
A proud Plant Manager is described by Rojas as a "14-year district veteran."
A Library Aide (whose job seemingly didn't take her near the math books) chooses to get laid off rather than accept reduced hours because "I can't afford a 50% pay cut."
Another Plant Manager, who has been transferred from Sierra Vista Elementary to San Antonio Elementary, carries "a thick stack of letters of crayon drawings and words of gratitude from students." (I actually was kind of moved by that one.)
A 14-year-district-veteran Library Aide files a grievance after being transferred to a school that will require a "two-hour drive from her home, which, she said, her doctor told her she can't make every day because of medical issues."
I wish all these folks the best in finding private-sector work. I just want to know why the L.A. Times didn't blow all this smoke up my ass when they fired my…ass.