Dallas Confronts Its Drinking Problem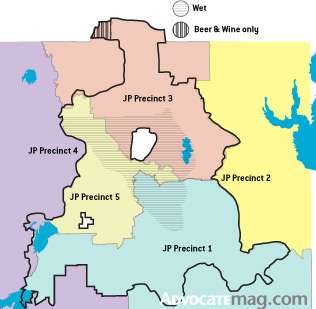 Since I no longer live in California, I do not get to vote on legalizing marijuana next week. But since I live in Dallas, I do get to vote on legalizing alcohol. You thought "dry" and "wet" counties were confusing? Dallas is divided into dry and wet precincts. These are not voting precincts but justice of the peace precincts, and they are not the current J.P. precincts but the ones that existed at the time when voters decided to go wet or dry. To the right (courtesy of the Advocate, a local magazine) is a simplified map of the boundaries, and here is a more detailed one. The Advocate helpfully explains the ins and outs of this bewildering system and how it came to be.
Bottom line: It makes no sense. You can buy beer and wine in some grocery stores (e.g., the Whole Foods on North Central Expressway) but not in others (e.g., the Whole Foods on Preston Road). In some restaurants you can order a drink in the usual way; in others you have to join a "private club" first. Two citywide initiatives on this year's ballot would eliminate this crazy quilt of arbitrary restrictions. Proposition 1 would allow grocery and convenience stores throughout the city to sell beer and wine (but not liquor). Proposition 2 would eliminate the stupid private-club requirement for ordering cocktails in areas that are currently dry. Advocate sums up the significance of these measures:
It's almost impossible to overstate how important next month's wet-dry election is in Dallas' social and cultural history. It's not only the biggest wet-dry election in U.S. history since the end of Prohibition, but it's also a landmark moment in Dallas. Since before Prohibition—for almost 100 years—most of Dallas has been dry in one form or another. It has been as much a part of Dallas as 100-degree days and the Cowboys….

Dallas has changed significantly from the smaller, predominantly mainstream Protestant city of the 1960s and 1970s to a million-plus population urban center that includes more Catholics, Jews and non-denominational Protestants—all of whom are less concerned about alcohol.
Or more concerned, if the issue is finding it. Unfortunately, the ballot language for the wet propositions is so confusing that voters may not understand what the measures would accomplish unless they have done some resea
rch ahead of time. Here is how the ballot (PDF) describes the initiatives:
Proposition No. 1: "The legal sale of beer and wine for off-premise consumption only."
Proposition No. 2: "The legal sale of mixed beverages in restaurants by food and beverage certificate holders only."
Both of these sound like they might be introducing new restrictions, especially to people who already live and dine in wet areas. Yet voters who want to liberalize the current rules should vote yes on both measures—or, as this double-negative sign suggests, vote against no.