Fenty Defeat Means D.C. School Reform Experiment Pretty Much Over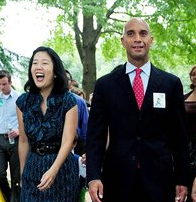 D.C. schools Chancellor Michelle Rhee has a habit of speaking bluntly. And after D.C. Mayor Adrian Fenty was defeated in the Democratic primary on Tuesday by City Councilman Vincent Gray, she said this:
"Yesterday's election results were devastating, devastating. Not for me, because I'll be fine, and not even for Fenty, because he'll be fine, but devastating for the schoolchildren of Washington, D.C."
She later clarified that she actually meant to say…exactly what she said. Except that she realizes she'll have to work with Gray—at least until he give in to the mobs baying for her head and fires her or she quits in fury—so she wanted to be clear that her dismay at his victory was nothing personal. It was really dismay at what his victory likely meant for the future of education reform in America.
And she's right.
In fact, I pretty much wrote a whole feature article about how the D.C. reform experiment is the most important, exciting, high stakes experiment in reforming traditional public education anywhere in the country. If education reform stalls, stutters, and crashes here in Washington—where conditions are near-ideal with mayoral control of schools, a large creative class, a daring chancellor, and a system that has absolutely hit rock bottom—it's unlikely to succeed anywhere.
Rhee and Fenty have been the dynamic duo of education reform in the city (or perhaps two-thirds of a troika?) and Rhee has made a point of saying over and over that her big ideas would have been worthless without Fenty's unconditional support. Rhee is wildly unlikely to enjoy the same deal with Gray, and she knows it. Here's how The Washington Post characterizes their relationship:
Since [the day Fenty introduced Rhee to the City Council], Gray and Rhee have clashed on nearly every major school issue to come before the council, including the budget, projected enrollment and labor relations. Divided by temperament, background, generation (she's 40; he's 67) and theories of how to bring about change, Gray and Rhee were never comfortable with each other, according to those those who know them both.
Basically, the D.C. education reform experiment is over.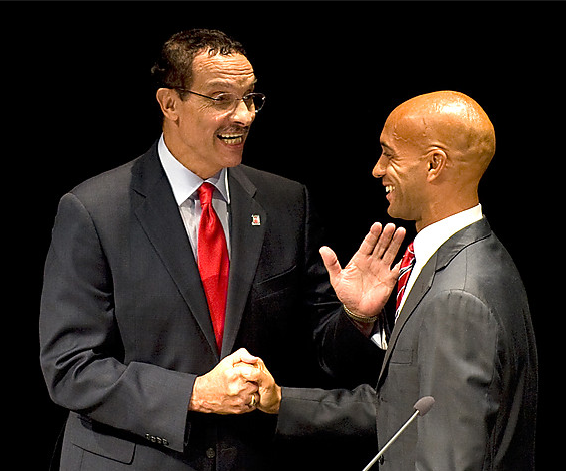 Since D.C. is essentially a one party city, his Democratic primary victory means Gray is now being referred to by the awkward moniker "presumptive mayor-elect Gray." But in further evidence that everything has gone topsy turvy, today the news came that Democratic Mayor Fenty was the top write-in selection in the Republican primary, with 822 votes. Because there were no candidate names printed on the ballot, that means Fenty has until 4:45 p.m. this afternoon to file an "Affirmation of Write-In Candidacy"—which would make him the Republican nominee for mayor. A whopping 822 write-ins aside, he can't win back the city this way. But as an avid Rhee watcher, part of me would like to see Fenty stay in the race, just to hammer Gray about education reform for another month.
UPDATE: Fenty has declined the Republican nomination.