San Francisco's Gun Picture Ban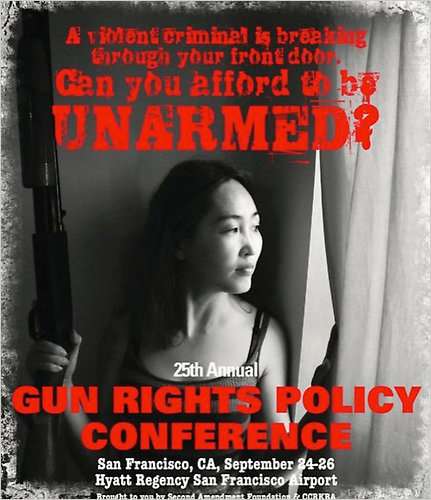 The New York Times reports that the San Francisco Metropolitan Transportation Agency (SFMTA) is rethinking its rule against ads that "appear to promote the use of firearms." Columbia Pictures had to produce special San Francisco editions of posters advertising the cop comedy The Other Guys, replacing guns held by stars Will Ferrell and Mark Wahlberg with "more innocuous pepper spray canisters, police badges and bare hands." Yet posters advertising an upcoming gun rights conference sponsored by the Second Amendment Foundation (SAF) went up unaltered.
The posters show a woman holding a shotgun as she peers through a curtain in her home. The headline reads: "A violent criminal is breaking through your front door. Can you afford to be UNARMED?" SAF founder Alan Gottlieb, who said he printed the posters after reading about the SFMTA's gun-phobic censorship of movie ads, told the Times, "We were prepared to go to court and sue if they did not put them up." But so far that hasn't been necessary. "At this point we're not taking any action to remove the ads," SFMTA spokesman Paul Rose said. "We are currently reviewing our advertising policy in light of the recent Supreme Court decision, which may have altered the legal landscape regarding firearm advertising."
Rose was referring to McDonald v. Chicago, in which the Court said the Second Amendment protects an individual right to arms that states and cities are obligated to respect. But it seems like the pertinent amendment would be the First. A ban on ads that "appear to promote the use of firearms" is not only content-based; it discriminates against a particular viewpoint, which is unconstitutional in a "designated public forum" such as the SFMTA's advertising spaces. The SFMTA's policy is akin to banning ads from the National Right to Life Committee while allowing ads from the National Abortion and Reproductive Rights Action League. In that case, the relevant rulings would be First Amendment cases dealing with speech in designated public forums, not Roe v. Wade and Planned Parenthood v. Casey.
I discuss the First Amendment's application to transit ads here and here.