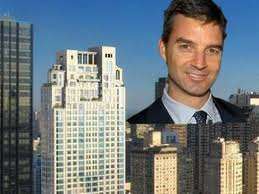 From New York Times biz columnist Andrew Ross Sorkin:
Daniel S. Loeb, the hedge fund manager, was one of Barack Obama's biggest backers in the 2008 presidential campaign.

A registered Democrat, Mr. Loeb has given and raised hundreds of thousands of dollars for Democrats. Less than a year ago, he was considered to be among the Wall Street elite still close enough to the White House to be invited to a speech in Lower Manhattan, where President Obama outlined the need for a financial regulatory overhaul.

So it came as quite a surprise on Friday, when Mr. Loeb sent a letter to his investors that sounded as if he were preparing to join Glenn Beck in Washington over the weekend.

"As every student of American history knows, this country's core founding principles included nonpunitive taxation, constitutionally guaranteed protections against persecution of the minority and an inexorable right of self-determination," he wrote. "Washington has taken actions over the past months, like the Goldman suit that seem designed to fracture the populace by pulling capital and power from the hands of some and putting it in the hands of others." […]

"We have given a great deal of thought about the impact that public policy has on individual companies, industries and the economy generally," he said. Third Point has sold its investments in big banks as a result of "regulatory headwinds"; got rid of its stake in Wellpoint, which Mr. Loeb described as "a statistically cheap stock owned by several hedge funds, but which we saw as being overly exposed to unpredictable government regulation"; and taken a short position against for-profit education companies as a result of "the government's increased willingness to use its regulatory muscle." […]

"So long as our leaders tell us that we must trust them to regulate and redistribute our way back to prosperity, we will not break out of this economic quagmire," Mr. Loeb wrote.

"Perhaps our leaders will awaken to the fact that free market capitalism is the best system to allocate resources and create innovation, growth and jobs," he continued. "Perhaps too, a cloven-hoofed, bristly haired mammal will become airborne and the rosette-like marking of a certain breed of ferocious feline will become altered. In other words, we are not holding our breath."