L.A. Teachers Union Fears Data (Mostly Because They Don't Know If It's Singular or Plural)
The Los Angeles Times is tearing it up this week with their some-teachers-are-more-good-at-the-teaching-than-other-teachers series. The paper put together a database that ranks the effectiveness of the district's 6,000 teachers. It has promised to release the scores publicly—individual teachers can see their score in advance and comment—and the union isn't terribly happy about it. In fact, the union has called for a boycott.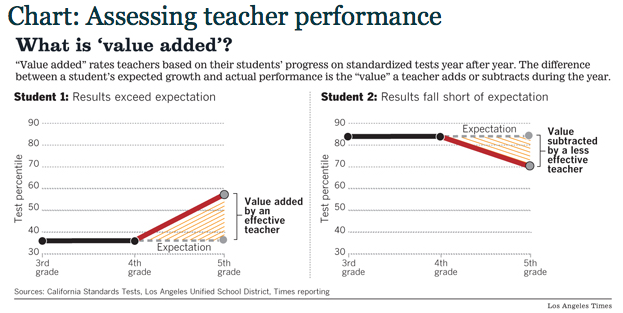 To his credit, Obama ed head Arne Duncan is backing the paper:
"What's there to hide?" Duncan said in an interview one day after The Times published an analysis of teacher effectiveness in the Los Angeles Unified School District, the nation's second largest school system. "In education, we've been scared to talk about success."
Meanwhile, in today's paper columnist Sandy Banks tells the story of Polytechnic High in Sun Valley, where principal Jan Fries-Martinez made a switch from this mindset:
"People who would say 'These are nice kids, but I really don't have them write in class because it makes them feel bad when they don't write well.'
To this one:
The reforms are being led by teachers now, Fries-Martinez said….Teachers who are not afraid to "keep going back to look at the data, because that's what tells us what kids still need."