Daniel Ellsberg on Obama: "His actions are totally uncoupled from his public statements. I don't even listen anymore."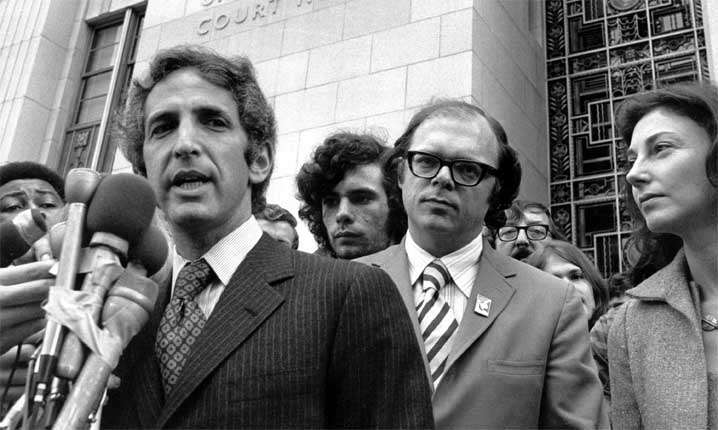 From an interview that the Pentagon Papers leaker gave to Der Spiegel:
Ellsberg: I think Obama is continuing the worst of the Bush administration in terms of civil liberties, violations of the constitution and the wars in the Middle East.

SPIEGEL ONLINE: For example?

Ellsberg: Take Obama's explicit pledge in his State of the Union speech to remove "all" United States troops from Iraq by the end of 2011. That's a total lie. I believe that's totally false. I believe he knows that's totally false. It won't be done. I expect that the US will have, indefinitely, a residual force of at least 30,000 US troops in Iraq. […]

SPIEGEL ONLINE: You doubt not only Obama's missions abroad but also his politics back home in the US. Why exactly are you accusing the president of violating civil liberties?

Ellsberg: For instance, the Obama administration is criminalizing and prosecuting whistleblowers to punish them for uncovering scandals within the federal government …

SPIEGEL ONLINE: … Such as the arrest, confirmed this week, of an Army intelligence analyst for leaking the "Collateral Murder" video of a deadly US helicopter attack in Iraq, which was later posted online at WikiLeaks.

Ellsberg: Also, the recent US indictment of Thomas Drake.

SPIEGEL ONLINE: Drake was a former senior official with the National Security Agency (NSA) who provided reporters with information about failures at the NSA.

Ellsberg: For Obama to indict and prosecute Drake now, for acts undertaken and investigated during the Bush administration, is to do precisely what Obama said he did not mean to do—"look backward." Of all the blatantly criminal acts committed under Bush, warrantless wiretapping by the NSA, aggression, torture, Obama now prosecutes only the revelation of massive waste by the NSA, a socially useful act which the Bush administration itself investigated but did not choose to indict or prosecute!

Bush brought no indictments against whistleblowers, though he suspended Drake's clearance. Obama, in this and other matters relating to secrecy and whistleblowing, is doing worse than Bush. His violation of civil liberties and the White House's excessive use of the executive secrecy privilege is inexcusable. […]

Ellsberg: His actions are totally uncoupled from his public statements. I don't even listen anymore. He has turned 180 degrees. Another example: His promise to filibuster a law giving the phone companies legal immunity for any role they played in the Bush's domestic eavesdropping program. Then he not only voted not to filibuster it, he also voted for the law—against the wishes of his backers.
Rest assured: Ellsberg, like I'm guessing many people who share his critique of Obama, "will probably vote for him again, as opposed to the Republicans."
Link via Becky Chandler's Twitter feed. Eli Lake wrote about the Bush-Obama WoT/civil liberties commonalities in our June issue. Read Reason's interview with Ellsberg from 37 years ago. ?