D.C. Reasonoids: Interested in the Civil War? Come Hear Matt Welch Interview His Mom About Her New Book Yankee Warhorse Tonight at 6 PM, at the German-American Heritage Museum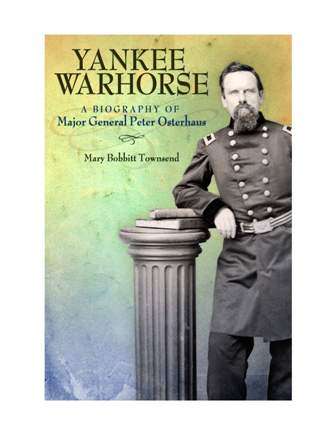 Peter Joseph Osterhaus was one of the most accomplished of the wave of "'48ers"–Germans who participated in the 1848-49 Rebellion, then fled their native land–to re-settle in the United States. He was also my great-great-great grandfather. Osterhaus was a Major General for the Union Army in the Civil War, military governor of Mississippi during the early days of Reconstruction, and later U.S. diplomat in Lyon and Mannheim (he also sired Hugo Osterhaus, who became rear admiral of the U.S. Navy). Now, for the first time, he is subject of a book, Yankee Warhorse: A Biography of Major General Peter J. Osterhaus, written by first-time author Mary Bobbitt Townsend, who is also my mother.
Tonight, May 28, Townsend will be speaking about Yankee Warhorse at Washington, D.C.'s new and very interesting German-American Heritage Museum, at 719 6th Street NW in Chinatown, just around the corner from the Gallery Place-Chinatown Metro stop. Reception, with drinks and snacks, begins at 6 p.m., followed by a Q&A conducted by yours truly. Of interest to Civil War buffs, Western theater completists, and those curious to hear more about how idealistic Germans helped tip the course of the war.
What: Reception and discussion for Mary Bobbitt Townsend's Yankee Warhorse.
Where: German-American Heritage Museum, 719 6th Street NW, Washington, DC, 20001.
When: Friday, May 28, 6-8 p.m.
Why: Learn about an important and undercovered Civil War general, visit a great new museum, and enjoy delicious snacks and drinks!
RSVP: mleewelch-at-gmail.com