Because Britons Were Such Responsible Drinkers Before the Law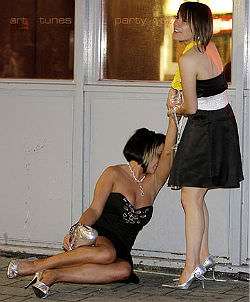 In 2003, the Labour-controlled parliament in the United Kingdom passed the Licensing Act, allowing pubs to potentially stay open 24 hours, provided they could convince a local licensing board that an open-all-night establishment wouldn't cause social unrest. For those who spent time in England prior to the legislation (or just after the outbreak of World War I), you will recall the 11pm last orders which resulted in short sessions of furious drinking and the traditional "lock in." The Telegraph reports that, under the new ConDem government, those days might be returning:
Theresa May, the Home Secretary, said she is determined to examine problems created by the "binge-drinking culture", including street violence and other crimes.

Speaking at the Police Federation conference, she said she opposed the 2003 Licensing Act when it was introduced by the previous administration.

Questioned by a police officer in the audience about the problems caused by heavy drinking, Mrs May confirmed that a review is under way.

She said: "We are going to look at the licensing laws. I was in opposition when the new laws were introduced and I argued against them.

"I argued that those were the sorts of problems that would come about but I was told we would have a cafe culture. We think they have produced problems on the streets.