Quote of the Day: Love Monopoly, My Philosophy, Don't Go Fooling With Private Property.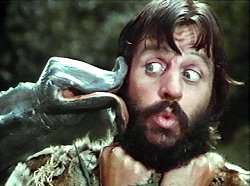 I thought I was up to speed on the philosophy of Ringo Starr, but twice today I've been surprised by this earthy libertarian gem from the former Beatles drummer: "Everything government touches turns to crap."
Here's a citation from a commenter at the American Spectator. Here's another from post-modern neo-feminist libertarian cyberpunk Becky Chandler. Strike the Root expands this comment into a more general Ringo's Law.
Maybe it's not as memorable as John Lennon's reply when asked whether Ringo was the best drummer in rock: "He wasn't even the best drummer in the Beatles." But I'm amazed I'd never heard it before. The comment is in keeping with the Fab Four's longstanding objections to intrusive government:
It may just be a specimen of the traditional Skouse thrift the Daily Mail referred to in this two-year-old story on the souring of Ringo's personality:
Perhaps as a legacy of his impoverished childhood in Liverpool, Ringo will not tolerate waste. Consequently, the multi-millionaire insists the leftovers from his table at the trendy Chinese eaterie are bagged up for him to reheat the next day.

Everyone who crosses his path—even complete strangers in the street—are habitually treated to his trademark two-fingered salute and his "Peace and Love" catchphrase.

In fact, his obsessive Peace sign flashing has increasingly become the source of much bemusement, not to mention ridicule, in Tinseltown.
Starr, who moved to Monte Carlo for tax purposes in the seventies, has long been singing his own personal No No Song to the confiscatory state, and his support for private property has never been in question. But if anybody has a date or context for this blunt aperçu, the comments are wide open.
Peace and love, Ringo, peace and love…