Happy Birthday, Moorfield Storey!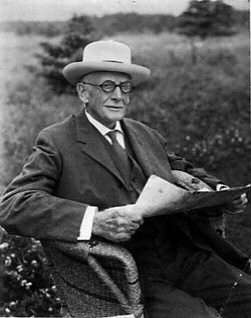 Moorfield Storey, the great libertarian lawyer and activist, was born on this day in Roxbury, Massachusetts in 1845. Here's a little from my 2007 profile of his life and accomplishments:
A fierce critic of imperialism and militarism, Storey was a founder and president of the Anti-Imperialist League, which opposed U.S. annexation of the Philippines after the Spanish-American War and counted Mark Twain, Andrew Carnegie, and President Grover Cleveland among its members. An advocate of free trade, freedom of contract, and the gold standard, Storey also helped organize the independent National Democratic Party, also known as the Gold Democrats, who fought the anti-gold populist William Jennings Bryan's presidential bid in 1896. An individualist and anti-racist, Storey was the first president of the National Association for the Advancement of Colored People (NAACP), where he argued and won the group's first major Supreme Court victory, Buchanan v. Warley (1917), a decision that relied on property rights to strike down a residential segregation law.
Storey's victory in Buchanan directly refutes the false claims made by many liberals and progressives that constitutionally-protected property rights only benefit big business and other elites. NAACP leader W.E.B. Du Bois credited Buchanan with "the breaking of the backbone of segregation." George Mason University legal scholar David Bernstein has shown that "Buchanan almost certainly prevented governments from passing far harsher segregation laws [and] prevented residential segregation from being the leading edge of broader anti-negro measures." In other words: Civil rights are inseparable from property rights.
Happy birthday!