Obama Proposes New Financial Regulations, Declines to Tell Administration Financial Officials What They Mean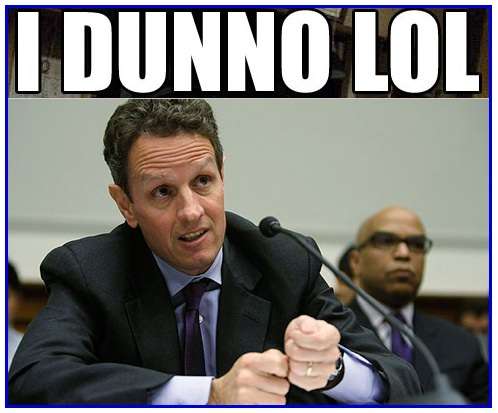 Last week, President Obama announced a major new proposal for regulating financial sector activities. The proposal, which is expected to significantly alter the way large financial institutions like Goldman Sachs do business, would… uh… it would… well, as Clusterstock's John Carney reports, the administration hasn't quite gotten around to figuring that out yet:
The Treasury Department has been scrambling to figure out what the new proposals unveiled by Barack Obama last week limiting the size and scope of banks.

The proposals came out of the White House rather than the Treasury Department. Inside of Treasury there is the feeling that the basis of the plan came from "political people" instead of "economic policy experts," according to a person familiar with the matter.

The Treasury Department has been fielding questions from bankers and journalists about the new regulations—but so far has not been able or willing to provide much information. Calls and emails to a Treasury Department spokesperson went unanswered this week and last week.

Privately, Treasury Department policy people express frustration at the process. Some believe that if the White House had not been in a rush to present the new policy following the Massachusetts election, a more fully detailed policy could have been presented. There is a growing feeling of resentment that the process was speeded up for political reasons.
Truly, I wonder, what is American government coming to when policy decisions are driven by short-term political self interest? And worse, now nameless Treasury staffers has a sad:
"This all came out of the White House. We look like idiots because of this. And we can't get the White House to provide the clarity banks, shareholders and the American people deserve," a Treasury Department employee said.
If it softens the blow, Anonymous Treasury Employee, you can take comfort in the fact that this isn't the only reason your agency looks stupid.