Just in Time For Halloween, Walmart (and Costco) Start Selling Caskets!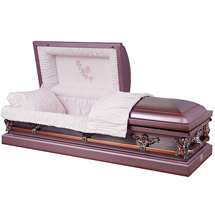 Oh, it's fang-tastic! Just in time for Halloween, discount retail giants Walmart and Costco just started selling caskets, a (seriously) major breakthrough for customers in one of the most protectionist industries ever. Check out some details on how the racket works from this interview with Chip Mellor, the head of the Institute for Justice, which defended a free market in coffins.
And check out Walmart's selection here.