Their Freedom's in Jeopardy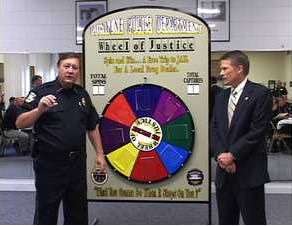 Law-and-order meets bread-and-circus:
Picayune police nabbed their first suspect Tuesday using the department's newly created "Wheel of Justice," which puts the names of those wanted for drug offenses on a wheel for police officers to spin to determine who to arrest next.

At the Picayune Kiwanis Club meeting Tuesday, officers spun the wheel and it landed on 24-year-old Dewayne Allen Bester Jr. He was wanted for sale of crack cocaine within 1,500 feet of a church or school and failure to appear. He was also out on bond for a murder charge in Hattiesburg…

Officers plan to spin the wheel once per week at different locations in the city. Next week, they may do it at a local radio station, Ervin said. Narcotics officers will determine which drug suspects to put in the running and they likely won't feature the same eight offenders from week to week. Ervin said Picayune police's drug arrests aren't limited to those Tuesdays when they spin the wheel…

The hope is that the "Wheel of Justice" causes citizens to take note of drug activity so they will call in tips to officers…

The wheel was made by a local person using a design officers came up with. They paid the builder with forfeited drug funds, but Ervin didn't know the cost late Tuesday afternoon and wasn't able to locate it by press time.
Meanwhile, be sure to set your Tivo to record Police Women of Broward County.