Peter Bagge's Everybody Is Stupid Except For Me (And Other Astute Observations)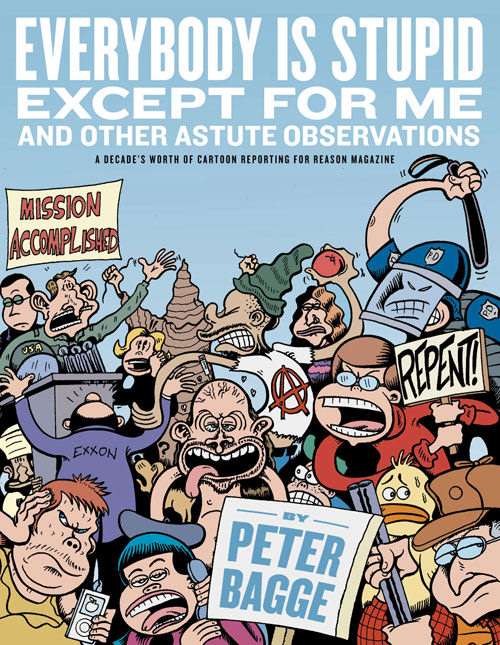 As Brian Doherty noted yesterday, Reason's own beloved Peter Bagge has a fantastic collection of a near-decade's worth of political cartooning coming out from Fantagraphics. The content is king but the actual production is nothing short of stunning, filled with the bright, bright colors than Paul Simon used to sing about back when Kodak was still making film. 
Pre-order Everybody is Stupid Except for Me And Other Astute Observations now from Amazon for the stunningly low price of $11.55.
Or (writes Peter hisself!): "If you want a copy RIGHT NOW, you can order it by phone directly from Fantagraphics Books. If you dial (800-657-1100) between now and the end of July they won't charge you postage, so it'll cost you about the same that Amazon charges. DEAL!"
And check out the reviews so far (the last one included to be fair and balanced):
How to describe Peter Bagge? Cartoonist? Cynic? Little ball of human rage? All of the above. Also satirist, raconteur, concerned citizen, and critic. And finally, Libertarian. But one from the realist branch of that political tree.

For the past eight years, Bagge has been producing regular strips and features for Reason, the scathingly brilliant libertarian journal that's the secret guilty favorite of Washington insiders Left and Right. Now the best of that work has been collected by Fantagraphics. Everybody Is Stupid Except for Me is as combative, iconoclastic, and embittered as its title suggests it would be. It is also smart, thought-provoking, and funny as hell. Disconcertingly, you'll agree with at least half of what Bagge says. Then, gratifyingly, you'll realize that everybody is stupid except for you, too.—Tim Heffernan, Esquire

Everybody Is Stupid, overt political concerns aside, is pleasingly consistent with Bagge's earlier work: As mass-population stupidity (tax-dollar boondoggles, sports-arena and shopping-mall mania and so forth) escalates, so do Bagge's abilities to hold it up to razor-edged ridicule.

Bagge cartoons himself as a confused Everyman, perpetually attempting to make sense of a society-gone-senseless. If Bagge is a curmudgeon, he tempers the attitude with a willingness to laugh at everything—even himself. If a documentarian, he is an interpretive and exaggerative one. If a social critic or polemicist, he brings to the table a rare combination of backhanded affection and rambunctious humor. No "ifs" as to the matter of his being one terrific cartoonist, with a keen constancy of purpose.—Michael H. Price, Fort Worth Business Press

First of all, sorry to bury the lead, I'm getting to the point.  Second of all, Iggy Pop wouldn't suffer shit like this from smug, vodka-swilling liberal arts majors at a bar.  Third of all, is it all right if I draw from this isolated incident with a moron, that all libertarians are idiots?

If Everyone is Stupid is any indication, that's totally fine.  This bloated collection of Peter Bagge's work is just a series of similar encounters, through the lens of libertarianism.  The book would have you believe that the world is comprised of bleeding-heart pinko Democrats who want to tax you to death and take away your assault rifles, and the GOP's flock of sexually-repressed bible-thumping rednecks.—Ashley Cardiff, CC2K