Arsonists Against Topless Coffee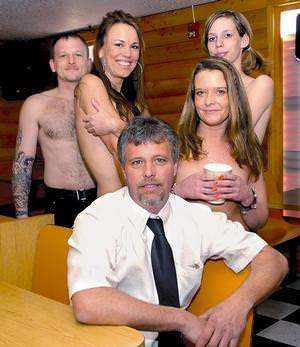 The Grandview Coffee Shop seemed like a welcome addition to the local economy of Vassalboro, Maine, when it opened in February. Owner Donald Crabtree interviewed 150 applicants for only ten server positions.
Yesterday, though, the shop was destroyed in a fire. The Boston Globe reports that the fire marshal's office is calling it arson. Who would be so heartless as to burn down an independent, small-town coffee shop? It might have something to do with owner Donald Crabtree's unique business model:
The shop brought a wave of publicity to the town of 4,400 people when Crabtree announced plans to have topless waitresses serve coffee and doughnuts between 6 a.m. and 6 p.m. Nothing in local ordinances barred such an establishment.
No one knows for sure, but the Globe article seems to imply that the arsonist disapproved of Grandview's loose employee attire policies. Before the uninsured building was destroyed, Crabtree—ever the innovative entrepreneur—was announcing plans to turn his shop into what sounds like a dry gentlemen's club:
Crabtree had proposed extending the shop hours until 1 a.m., adding music, and expanding parking. No alcohol would be served, Crabtree told the [Vassalboro] Planning Board.
The semi-nude baristas would also be allowed to dance.
Before anyone gets happy about averting moral armageddon in Vassalboro, Crabtree plans to reopen his shop. Next Monday, a Vassalboro Town Meeting—planned before the arson—will consider "regulating sexually oriented businesses," according to the Globe. Which raises the question: What's the sexual orientation of a business?
In the January 2003 print edition of Reason, Jackson Kuhl served up some useful coffee commentary. Also read Kerry Howley's 2005 article on why coffee is good for you—no matter what your waitress isn't wearing.