Don't Covet Your Neighbor's Ass, Report Him for It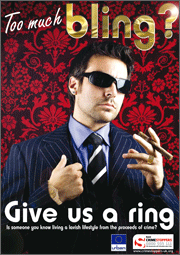 Since 2006, parts of the U.K. have participated in a public relations effort that encourages citizens to anonymously report neighbors who they feel are living beyond their means—for possible criminal investigation.
In partnership with regional chapters of the charity group Crimestoppers U.K., multiple local police forces have launched a program called "Too Much Bling? Give Us a Ring." The object of the program is to encourage people who suspect that a neighbor or acquaintance is living off the proceeds of crime to anonymously provide information about that person to the police…

A key component of the "Too Much Bling?" program is its effort to tap into any resentment and anger members of the public may feel toward suspected criminals.

In a release issued by the Sussex Police Department, which used the program to help seize more than £1.5 million between April and December of last year, Detective Sergeant Mick Richards said, "Members of the public are sick and tired of seeing people with no legitimate income living a lavish lifestyle. We are working hard towards taking the cash out of crime making use of all the powers granted to us under the Proceeds of Crime Act and other legislation.

"I am very aware that in these difficult times how disheartening it is to see people 'flashing the cash' when you know that it has come from a life of crime and that they appear to be 'getting away with it,'" he said.