Taxpayer Money Spent to Determine Whether Your Taxpayer Money Spent to Conclude That Your Taxpayer Money Spent to Propagandize for the War Was Well Spent, Concludes That it Wasn't
I like the conclusion (minus the scrubbing from the website), but at some point all this tail-chasing makes me dizzy:
In a highly unusual reversal, the Defense Department's inspector general's office has withdrawn a report it issued in January exonerating a Pentagon public relations program that made extensive use of retired officers who worked as military analysts for television and radio networks.

Donald M. Horstman, the Pentagon's deputy inspector general for policy and oversight, said in a memorandum released on Tuesday that the report was so riddled with flaws and inaccuracies that none of its conclusions could be relied upon. In addition to repudiating its own report, the inspector general's office took the additional step of removing the report from its Web site.
Link via Romenesko; Reason on Pentagon propaganda here.
Speaking of using taxpayer money to aggrandize the state any damned way Washington pleases, news that the Obama White House won't deign to release the photos generated by the are-you-outta-yer-MIND $328,000 flashback-inducing photo op above lower Manhattan is causing my internal inspector general to conclude that these people are themselves riddled with flaws. Check out irritating WH spokesman Robert "Smuggsy" Gibbs:
I've watched CNN. I didn't notice a lack of archival material from that flight.
Yeah, tee-hee, yuk-yuk, YOU WASTED SIX FIGURES ON AN UTTERLY POINTLESS STUNT THAT WE NEVER WOULD HAVE KNOWN ABOUT HAD YOU NOT SENT MANHATTAN INTO A HEART-SWALLOWING PANIC, and so let's make a joke, next question.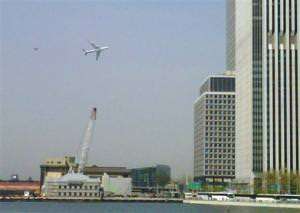 Here's the thing: That's my money, that's your money. Who the hell was that photo supposed to even be shown to? How was that picture going to make us safer, more prosperous, more free? The only way to fully determine just how venal and gratuitous this marginal error of a publicity stunt was is to show us the damned picture, and tell us precisely where it was going to be used. And then move the camera lens back, and tell us about the 10, 20, 200, 2,000 other idiotic photo ops that are being planned for this week, this month, and this year. Yes, it's a drop in the ocean compared to the trillions in bailout money and guarantees, but that's kind of the point: This is a president who promised to go through the crisis-year budgets "line by line" looking for savings (by which he mostly meant tax increases, but still). This is a president who campaigned daily on a pledge of unprecedented transparency in government.
Treating self-evidently wasteful spending–and not just wasteful spending, but wasteful spending on propaganda, carried out in such a way as to awaken one of the biggest national nightmares of our lifetime–as some kind of wave-of-the-hand funny, not worthy of further explanation beyond a quick apology, is a revealing act of condescension. Good to see the liberal media watchdog Media Matters pinning the blame where it's deserved: On Rupert Murdoch.