Our Enemy, The Aussie States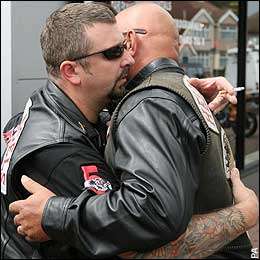 A vicious biker brawl at the Sydney Airport last month has sparked restrictive new legislation aimed at suppressing the "bikie" menace. The state of South Australia already outlaws bikie gangs while New South Wales, which passed its bikie legislation this month, is pushing for a nation-wide crackdown.
As I noted in a blog post last month, the NSW legislation allows the attorney general to declare gangs and other organizations illegal "without any challenge or appeal." Lawyers and civil rights groups say the sweeping powers are a violation of basic rights.
The new legislation, however, has quelled the gang warfare that frequently erupts. Strangely enough, it's worked because bikie gangs are now reaching out to their outlaw brethren and coming together to oppose the laws:
In an unprecedented move, the largest outlaw motorcycle club in Australia, the Rebels, opened the gates of its Leppington national clubhouse to the media yesterday to show a publicly united front to the organised crime bill recently enacted by the State Government.

Members of all the main clubs in NSW except the Nomads arrived at the Bringelly Road clubhouse to shake hands and - publicly at least - present a peaceful and united front….

"We're here to unite as one voice, to reassure the public that there's no ongoing disputes between the clubs," [Geoffrey Nicholson, QC, and a senior God Squad member who calls himself Fish] said. "The council will be meeting for consultation and discussions on a regular basis. The clubs are united."…  

[Fish] then addressed the media, attacking the Criminal Organisations Control Act passed this month.

"It's important to remember that all that activity has been carried out under existing laws, not under these new laws."

The new laws were directed not only at the outlaw clubs, but at "any organisations or club in the community" and would limit freedom of speech and the freedom to associate, he said.

"Today a bike group, tomorrow perhaps a trade union, a dissident group. There is no restriction in that legislation," he said.
Ahhh, it's nice to see that the state has really brought folks together, albeit against the state. The press conference included representatives from the Hell's Angels, Comancheros, Rebels, Bandidos, Black Uhlans, The Finks, and Lone Wolf. The camaraderie , however, doesn't seem to apply to journalists covering the developing story. The last line from the Sydney Morning Herald article reads, "[t]he media were then ushered out and the metal gates of the clubhouse pulled closed."
Another Australian ban here.