Because It's Been a While Since Any of My Lazy Colleagues Have Blogged And an Even Longer Time Since We Had Any Cheesecake Up at Hit & Run, Here's Something About Miss Kalifornia's Gay Marriage Stance…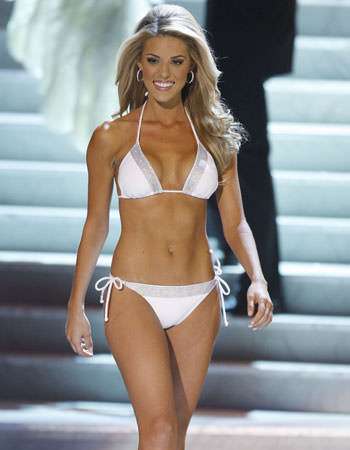 Those of us who take Fox's Sunday night slate of Animation Domination shows seriously simply missed the Miss USA beauty pageant—sorry, scholarship competition—where, just like in the Miss America show, a parade of future shoplifting beards, football announcers, and butt-sniffing chanteuses not only don bikinis with high heels and present themselves rearwards for inspection but answer the tough questions from D-grade celebrity judges (not that there is anything wrong with any of the aforementioned). The Miss USA contest does not judge "talent," by the way, which makes it either more or less dignified than the Miss America show, though I couldn't begin to tell you why.
The Miss USA contest determines which lady will represent the Land of the Free in the Miss Universe contest, which is either the Laff Olympics or the UN of international swimsuit competitions, depending on your belief in multilateral arms and legs control. This year's Miss USA will compete against a bevy of international beauties to succeed Miss Universe Dayana Mendoza of Venezuela, known for appearing topless and dubbing Camp Gitmo a "relaxing, calm, beautiful place."
Anyhoo, Miss California, a.k.a. Carrie Prejean, responded thusly to blogger Perez Hilton's query about gay marriage:
"We live in a land where you can choose same-sex marriage or opposite. And you know what, I think in my country, in my family, I think that I believe that a marriage should be between a man and a woman. No offense to anybody out there, but that's how I was raised."
Despite sharing exactly the same (stupid!) position on gay marriage as President Obama and past and future beauty queen Gov. Sarah Palin, Prejean took home first-runner up honors, losing out to Miss North Carolina, "a 22-year-old aspiring motivational speaker and entertainer from Wilmington." More here.
Ah well, there's always next year. Well, not really. What does any of this have to do with "Free Minds and Free Markets" (subscribe already; if you got the print edition for less than $20 a year, you'd be reading it instead of this by now)? For starters, it's a great goddamn thing that we live in a country where beauty queens are free to express themselves however they want. And more important, the rest of us are as free as Adam and Steve in an Iowa cornfield to ignore them, engage them, or watch King of the Hill reruns.