The life of Rielle Hunter already feels like an elevator pitch for a postmodern genre-mashup of a novel: Bit player in Jay McInerney/Brett Easton Ellis books leaves the printed page, goes New Age, and seduces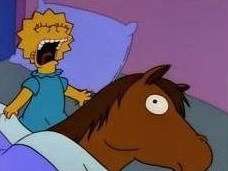 a presidential candidate. Now we have our opening chapter, part Godfather and part Double Indemnity: 
Before she was former Democratic presidential candidate John Edwards' mistress, before she was Rielle Hunter, before she was the face splashed on national television networks, she was the teenage equestrienne Lisa Druck of Ocala….

Hunter's father, James D. Druck, a successful Ocala lawyer representing insurance companies during the 1980s, was implicated in a scam that involved a local man, Tommy "The Sandman" Burns, who electrocuted horses for their owners to collect the insurance money. One of Burns' first victims was the show horse Lisa Druck rode, Henry the Hawk.

Burns said in a 1992 Sports Illustrated interview that James Druck showed him how to electrocute Lisa's horse using a stripped extension cord and a wall socket. Burns said Druck showed him the scam so Druck could collect $150,000 in insurance.
Burns was called Sandman, the Ocala Star-Banner reports, because "when he showed up at horse shows, invariably a horse would mysteriously die."
[Via Sam Smith.]
Update: The horse-killing scandal also inspired an episode of Law & Order. I think that means that both American Psycho and the 2008 Democratic primaries exist only in the mind of Tommy Westphall.