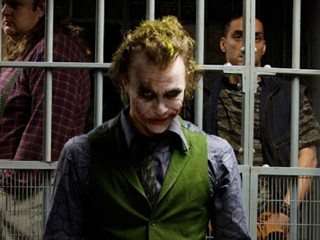 Does violent art inspire violent deeds? The Roanake Times is reporting that 18-year-olds Justin Colby Dirico and Bryan Eugene Stafford have been charged with conspiracy to commit an act of terrorism after allegedly leaving playing cards inscribed with threatening messages scattered around town, a stunt inspired by Heath Ledger's turn as the Joker in The Dark Knight. From the story:
[Police Chief J.C.] Martin would not say how they identified the suspects but said the teens admitted Tuesday during police interviews they were responsible for the cards, which they patterned after elements of "The Dark Knight." Both were charged with conspiracy to commit an act of terrorism.

[…]

Four cards were also found at the Christiansburg Kmart between Aug. 7 and Sunday, Reid said. The cards had "Joker" written on them and Reid said police considered them threatening. The threats on the Christiansburg cards were less specific than the ones found in Pearisburg, but they also referred to Aug. 15.

The teenagers "were real remorseful. They said they never had any intentions of harming anybody," Martin said after talking with them. He said it appeared to be "a prank that kind of got out of hand."
Obviously these guys are morons and jerks, but conspiracy to commit an act of terrorism? Seems a little steep. I'm assuming the authorities will dial back the charges after these idiots have been sufficiently spooked.
Whole thing here. For more on the funny books, check out reason on the long, gory life of EC Comics and on Marvel Comics and American plenitude.