Use an Aesthetically Pleasing Tactic to Keep Taggers Temporarily at Bay, Go to Jail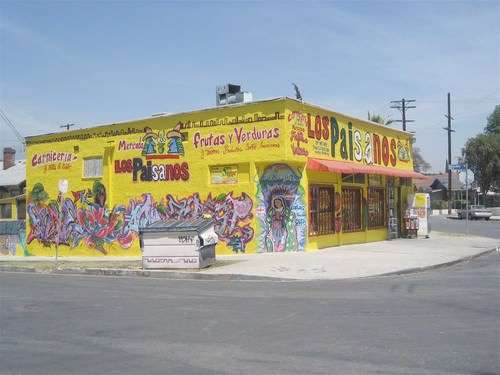 Los Angeles is almost as lousy with graffiti as Washington D.C. is lousy with rats. Worse, when you confront a tagger defacing your home or business, he will shoot you.
What's a shop-owner to do? Law enforcement is obviously out of the question (it's akin to reporting your camera stolen in Rome). But you can apparently hire some local mural painters (L.A.'s got some seriously awesome street murals) who are respected by taggers enough so that they leave the various Virgin Marys and flag-carrying eagles alone. But ? unlike awful graffiti, for example! ? having nice-looking paint on the side of your liquor store requires any number of permits from the city.
"ORDER TO COMPLY," said the letter from the Building and Safety Department, which required the Antonios to remove "excessive signage" under threat of a $1,000 fine "and/or six (6) months imprisonment" for each of four alleged violations.

The Antonios called the office of Councilman Ed Reyes for help, but to little avail. One day the city sent out a work crew and just like that, the Antonios' $3,000 investment was gone, covered over with dull beige paint.

You know, of course, what happened next. Whitewashing that wall was like sending ants an invitation to a picnic. The taggers have been back almost daily, treating the wall like a fresh canvas.
Whole story here.