Hillary and the Holy Ghost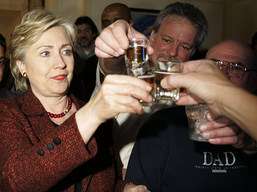 "I have had the experiences on many, many occasions where I felt like the Holy Spirit was there with me as I made a journey…You know, it could be walking in the woods. It could be watching a sunset."—Sen. Hillary Clinton.
More here, in a Wall Street Journal col by Daniel Henninger which is mostly about "culture war" stuff. (The only truly indispensable resource on culture war stuff, by the way, is Morris P. Fiorina's Culture War?: The Myth of a Polarized America.)
Hat tip: To a reader whose email pointing to this picture I inadvertently deleted.