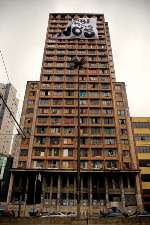 An interesting story from São Paulo, Brazil, where hundreds of homeless families took over an abandoned building and made something out of it:
The Prestes Maia building in downtown São Paulo, abandoned for 12 years, had become a haven for drugs and prostitution. Then, in 2002, more than 400 homeless families, in cooperation with a local group called the Downtown Homeless Movement, occupied the 22-story building. Conditions were crowded and difficult–the building lacks electricity and running water–but residents established a free library, cinema, and educational and social activities….

The Downtown Homeless Movement, which has reclaimed more than 30 buildings in São Paulo, is just one of many groups reclaiming abandoned buildings across Brazil. At Prestes Maia, residents have fought eviction with protests, road blockades, and legal battles. After years of struggle, they have won either new housing or assistance from the government.
I'd rather they won the building itself. But after a two-decade absence, the original owners apparently wanted it back. I'm sure there's more to this story than I now know, but based on what I've read so far, I'd say cases like this are why adverse possession laws are a good idea, despite their occasional abuses.
Elsewhere in Reason: Robert Nelson reviews a book about squatters, in Brazil and in other countries.
Elsewhere not in Reason: Photos from Prestes Maia.