National Mood Ring at Orange Alert: Approval Ratings in the Crapper for Just about Everything!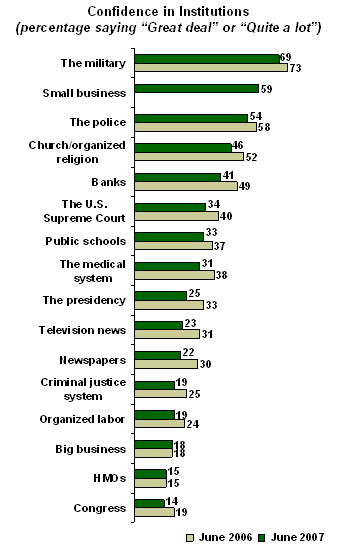 Here's some good news for modern man: According to the Gallup Poll, which has been tracking this stuff since the 1970s, approval of Congress has never been lower. And the president ain't doing so well, either, posting Nixonian percentages. The poll was done via telephone with 1,007 adults in mid-June.
Some specifics:
Folks saying they have a "great deal" or "quite a lot" of confidence in the Supreme Court: 34 percent; "the presidency": 25 percent; in Congress: 14 percent. All are down since 2002.
Folks saying they have a great deal/a lot of confidence in the military: 69 percent (down from a high of 82 percent in June 2003).
Folks saying that have a great deal/a lot of confidence in TV news: 23 percent. In newspapers: 22 percent….
 In fact, it's pretty much a clean sweep across the board, says Gallup:
Americans are currently in a very sour mood; a state of affairs that is reflected in the relatively low confidence ratings given many Americans institutions [including business, religion, the police, banks, and more] in Gallup's latest survey….

We assume that the low confidence ratings measured this year are connected to Americans' broader malaise with the state of the country. It is not entirely clear what is behind the currently bad mood on the part of Americans, but Gallup analyses show that the Iraq war and the economy are certainly perceived as major problems at this point in time. The very low ratings for Congress suggest that Americans may be upset that their elected representatives have not been able to rectify these concerns as well.