The History of Gay Soldiering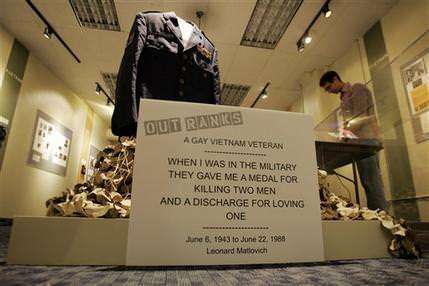 Via the Cincy Enquirer comes this AP story on an exhibit about gay soldiers in the pre-"don't ask, don't tell" era:
The airman's dress blues are faded, the footlocker he carried through three tours in Vietnam has gone to rust. Yet the epitaph he chose to mark his grave is still as fresh as today's headlines: "When I was in the military they gave me a medal for killing two men and a discharge for loving one."

Leonard Matlovich's medals, uniform and other personal effects make up the centerpiece of "Out Ranks," a new exhibit that documents the tortured relationship between gay troops and the U.S. military from World War II to the present.

Matlovich, who died in 1988, was a decorated Air Force sergeant who came out to his commanding officer a month before the fall of Saigon, hoping to challenge the government's ban on gay service members. In 1975, the idea of an openly gay combat veteran was incongruous enough to land him on the cover of Time magazine….

The show also reflects the lives of individual soldiers and sailors who, even more than most, had to give up their personal identities when they put on uniforms—from a brigadier general who did not come out until after his retirement to lesbians who found a sense of belonging in the Women's Army Corps during World War II.

Michael Job, 62, a Vietnam veteran who later founded a peace group for gay veterans, donated a bulletproof Bible, hats and other items for the exhibit. Job said he enlisted in the Army in 1970 because he feared he might be gay….

Escaping questions about his sexuality was not so simple, though. Job said when local women were brought into camp to have sex with the soldiers, he had to make up excuses for why he would not get in line. Even now, Job said he feels uncomfortable attending support groups with other veterans being treated for post-traumatic stress.
If you've never read about the post-World War I Newport Sex Scandal–surely one of the most bizarre gays-in-the-military witch hunts of all time, featuring Franklin Roosevelt, undercover seaman who would make a Cruising-era Al Pacino flush with embarrassment, and the Jazz Era's answer to Rev. Ted Haggard–check it out here.