Witness to Power, or One More Reason To Hate LBJ (LeBron James Edition)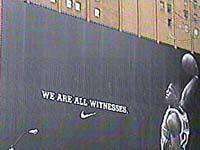 Reader John-David Filing points to the sort of stupid battle that federal officials seemingly never tire of fighting (even though there's a war on):
The federal government wants Ohio to take down a giant Cavs sign featuring LeBron James…

Crews posted a huge Nike "We Are All Witnesses" sign on the eastern face of the Sherwin Williams building, but federal officials spotted the sign at a recent convention.

They said it violates a highway beatification act passed during the Johnson Administration.
Maybe the feds are Spurs supporters (or sore Pistons fans). Democratic Ohio Gov. Ted Strickland defends the billboard, saying, ""We are determined to do everything to make sure that this city has the opportunity to continue to enjoy this beautiful display of commercial art."
Hey, hey LBJ, how many billboards did you kill today? At the signing of 1965's Highway Beautification Act, which regulated billboards and other signage on federal roads, the man who dropped tons of napalm on Vietnam recalled a drive home from the hospital on The George Washingtion Parkway:
I saw Nature at its purest. The dogwoods had turned red. The maple leaves were scarlet and gold . . . . And not one foot of it was marred by a single unsightly man-made obstruction–no advertising signs, no junkyards. Well, doctors could prescribe no better medicine for me.
Nature at its purest–except for the road he was driving on.
Burma Shave: Never forget!